In February 2014 I was re diagnosed with secondary breast cancer.  Like my primary breast cancer diagnosis, it was a huge shock.  Many people don't understand secondary breast cancer or that it doesn't actually come back in your breast (coming back in the same breast would be classed as a local recurrence or in the other breast as another primary breast cancer).  Mine came back in my lymph nodes in my neck and I ended up with a couple of small (oligo metastatic) areas in my sternum.  Below are the main places secondary or metastatic breast cancer will metastasize to:-
Bones (39-40%)*
Liver (7-18%)*
Lungs (13-22%)*

Brain (7%)*

Lymph nodes 
Multiple sites – 21.9%*
* % figures taken from abstract "Incidence and Patterns of Distant Metastases for Patients With Early-Stage Breast Cancer After Breast Conservation Treatment – Clinical Breast Cancer"
https://www.clinical-breast-cancer.com/action/showFullTextImages?pii=S1526-8209%2812%2900256-X
These percentages are across all subtypes (ductal and lobular) so your subtype may be more prevalent in other areas.  I have no % information on lobular breast cancer.
In a way, I was lucky not to have any of the major organs affected. But yet it's still hard to comprehend and come to terms with, yet life carries on.  I hope that it can be controlled and stability maintained.  No Evidence of Active Disease (NEAD) is what everyone wants.
I have treatment every 3 weeks for life, forever.  I will have to continue treatment otherwise the cancer will return and spread.  A treatment may fail to help stop the cancer and progression means you have to use another line of treatment.  Treatment hopes to control the cancer.  People don't understand this, yes I may have hair on my head and be able to exercise but I have an incurable disease.
I have bad days, days when I get a migraine from treatment and I cannot function, aches and pains due to the drugs that I'm on, pain from the peripheral neuropathy in my feet (worse) and fingers, itchiness on my arms and body from the perjeta but currently I'm doing OK in terms of living with a terminal illness.
The figures are shocking, 11500 women die every year, from secondary breast cancer, ~1000 die every month in the UK alone. Worldwide around 1430 die EVERY DAY.  There is no cure.  Yes, people are living with and beyond cancer but the median average of 2-3 years life expectancy is still hard to accept.  This is not yet a chronic disease and people are dying much too young.  We need a CURE.
Around 300 men are diagnosed with breast cancer every year.
I created two infographics to explain this and to help primary patients recognize symptoms of secondary breast cancer.  The first is for DUCTAL breast cancer.
Click the images below to view/download as PDF: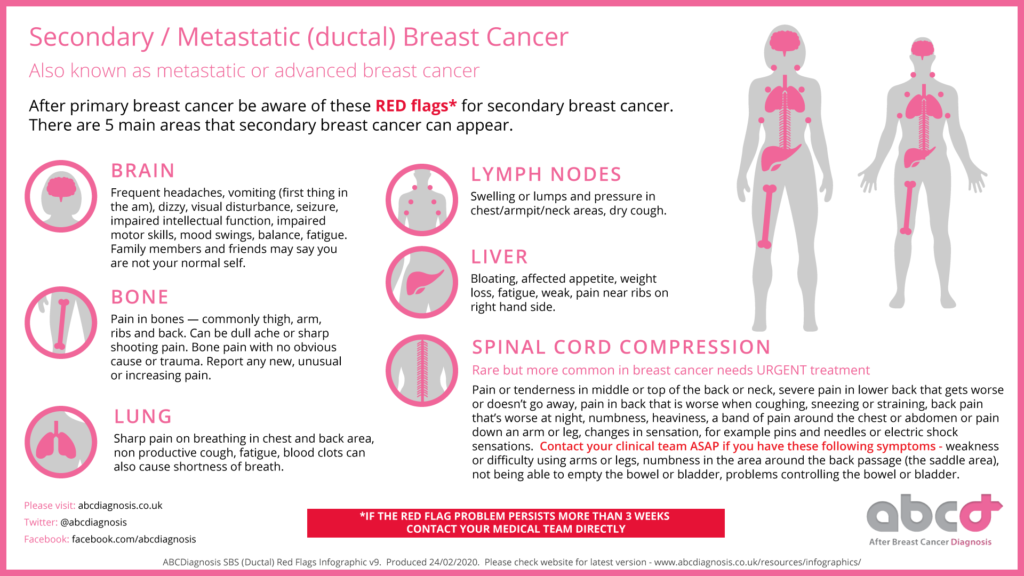 The below infographic is for LOBULAR Breast Cancer as breast cancer metastasizes to different areas than a normal ductal lump: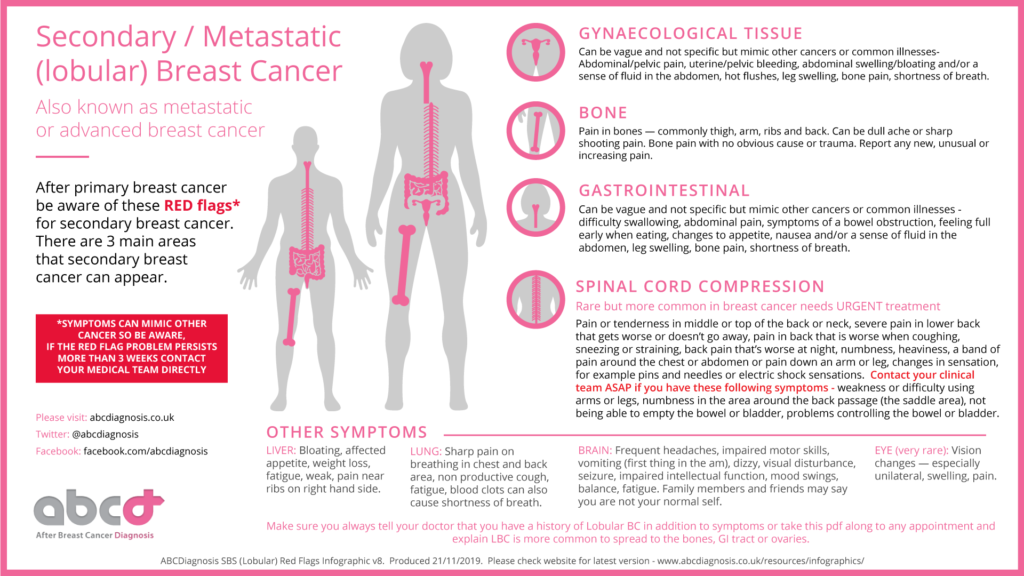 You can find the latest version of the pdf's on the dedicated resources page at: https://www.abcdiagnosis.co.uk/resources/infographics/
If you do experience any of these symptoms then don't hesitate your Oncologist as the sooner you get treatment the better.
There's lots of information on various Breast Cancer charity websites about secondary breast cancer and special days or meetings for people living with this disease.  You will find the links to the charities and organizations in the links section of the web site.
Lastly, research is critical to getting better drugs to live longer to eventually make this a chronic disease like for example diabetes or asthma but we are a long way from that yet.  The ideal is a cure.  We all live with hope.
Here are some slides from a Manchester Cancer funded event from The Christie hospital that I have been involved in and acknowledged.  It is a great opportunity to attend if you have secondary breast cancer and are treated at The Christie – see the recent presentation Living with Secondary Breast Cancer – Health & Wellbeing days for patients living with active disease if you wish to find out more then please contact The Christie Secondary Breast Cancer Nursing Team on tel 0161 446 3996
Find out more at some of the Breast Cancer related websites…
or learn about the various Breast Cancer trials…
Some useful links for secondary breast cancer organzations
ABC Global Alliance – Improving and extending the lives of women and men living with Advanced Breast Cancer in all countries worldwide and to fight for a cure.  We will also raise awareness of ABC and lobby worldwide for the improvement of the lives of ABC patients.
Europa Donna – The European Breast Cancer Coalition.
Lobular Breast Cancer Alliance – raising awareness of lobular breast cancer (see the separate infographic on this) which can have different areas of spread of metastatic disease as it is a unique histological subtype of breast cancer
MBCAlliance (USA) – patient advocates including people diagnosed with MBC (secondary BC) and caregivers who act as a taskforce for an executive group
METAvivor (USA) – non profit organization dedicated to increasing awareness of advanced breast cancer and equity in research for patient support.
METUPorg (USA) – Committed to changing the landscape of metastatic breast cancer through direct action – this is a USA organization but I linked with them and have created METUPUKorg
METUPUKorg (UK)  The advocacy group I created aiming to turn metastatic breast cancer (MBC) into a chronic illness and support MBC patients.