ABC – After Breast Cancer
GP and breast cancer survivor who has written a book 'Moving on ABC' to help women struggling after breast cancer.
After Cancers
web site and blog by Verite Reilly Collins providing a direct, straight talking insight into her world after cancer with real life experiences and a good dose of humour thrown in!
Acupuncture Space
Elma McElligott RGN. LAc is an Acupuncturist who has treated a number of breast cancer patients.
Amoena
Breast cancer lingerie, swimwear and breast forms – also have informative magazine which can be read online or subscribed to with lots of information.
Anti Cancer Club (USA)
Providing social connection and information on anti-cancer nutrition, mind/body modalities.
Annabandana – purpose made headwear for cancer
Bald Is Better With Earrings
Bald is better with earrings book – a survivors guide to breast cancer.
BAPs App – download this from the Apple app store or get it on Google Play
Physiotherapy exercises for patients after breast surgery with videos and instructions, also self check info, exercise reminders, deep inspirational breath hold technique and useful links.
Beauty Despite Cancer
I write a blog for Jennifer (Jennifer Young Skincare – you will find her details below) regarding breast cancer and other related issues.  I have a page for ordering products and anything bought a % will go to abcdiagnosis CIC.
See Products to Buy with donation follow the links and you will be able to buy products.
Breast Cancer Haven
Support, information and complementary therapies to help anyone affected by breast cancer.
Breast Cancer Now
(Breakthrough Breast Cancer, Breast Cancer Campaign & Breast Cancer Care merger)
The research and care breast cancer charity
SELF CHECKING is advised to go regular to know your breast and continue even if you have regular mammograms.   There is a useful and self explanatory guide by Breast Cancer Now here
https://www.breastcancercare.org.uk/information-support/have-i-got-breast-cancer/signs-symptoms-breast-cancer
Breast Cancer Chat World Wide @BCCWW #BCCWW
This is a twitter chat, held every Tuesday night 9 – 10pm GMT follow @BCCWW and then search #BCCWW and you will see members and tweeters.  Topics can vary, anyone can join in, everyone is welcome.
One of the 5 founder members wrote this blog about why we set the group up #BCCWW history
Breast Cancer Support in Manchester
Living With Secondary Breast Cancer (Manchester)
Activity: Breast Cancer Care monthly meet-ups for information and a chance to chat and share experiences with others with a secondary diagnosis. Longer sessions on alternate months with guest speakers.
Contact: 0345 077 1893
Email: secondaryservices@breastcancercare.org.uk
Date / time: Once a month from 11am
Location: Manchester
Who for: Open to anyone with secondary breast cancer.
Rochdale Breast Cancer Support Group
Activity: Offers support in a friendly atmosphere with opportunities to socialize and join in arranged outings. Interesting speakers most months.
Contact: Margaret Hammond 01706 868 094
Meet at: Thrum Hall Lane, Thrum Hall Methodist Church, Thrum Hall Lane, OL12 6DE
Date / time: Meets 1-4pm on the last Wednesday of every month
Who for: Open to all with breast cancer.
Salford Breast Buddies Cancer Group
Contact: Janet or Joanne on 0161 206 1455
Email: janet.atherton@srft.nhs.uk or joanne.shaw@srft.nhs.uk
Date / time: Last Thursday in the month 1-2pm
Meet at: Salford Royal NHS Foundation Trust, Stott Lane Salford M6 8HD
Who for: For those with a breast cancer diagnosis in the Salford area.
South Manchester Breast Support Group
Activity: A chance to meet other patients on an informal basis.
Contact: 0161 291 3113 Julia Linihan or the Macmillan Cancer Information and Support Service, Wythenshawe Hospital, 0161 291 4876 / 4875
Email: julia.linihan@uhsm.nhs.uk
Meet at: Macmillan Cancer Information & Support Service, Wythenshawe Hospital, Southmoor Rd, M23 9LT Date / time: Monthly meetings.
Who for: For UHSM patients only at the present time.
South Manchester Breast Friends, email Vicky Walsh – Alexandra Hospital currently on MS Teams 2nd Thursday in month 6-7pm, hoping for f2f in spring, and can call people for 1 to 1.
Blythe House – Chapel en le Frith, serves High Peak area, zoom meetings 4th Thursday in month 7pm + access to 1 to 1 and counselling.
Buzz'em Buddies run by Helen Allen – zoom group with various speakers – 3rd Monday once a month 10-12 noon find them on Facebook.
Glossop breast cancer support group (any stage)
@glossopbreastcancersupport  07920 803778  Since Covid restrictions were imposed the group meet up virtually via zoom the 1st Tuesday of the month at 8pm.  Please contact via messenger or email tracey.derbyshire@yahoo.co.uk
Breakthrough Generation
A breast cancer study launched September 2004 – this is a 40 year study of the disease. Sign up to help this research and get interesting newsletters about their ongoing study.
Breast Density Matters 
Cheryl Cruwys is a patient advocate from London but living in France campaigning about breast density as a mammogram didn't detect her breast cancer but an ultrasound did – see her campaign on the facebook page link.  They have contacts in the USA, patient videos explaining density, downloadable patient leaflets to take to appointments and template letters for radiologists.
In addition they are campaigning to change the procedure for anyone with dense breasts so PLEASE read and SIGN https://www.change.org/p/theresa-may-mp-create-a-breast-density-inform-law-so-women-know-how-effective-mammograms-are-for-them-2
"Send us your favourite fitting bra and we will copy and transform it for you to either a comfortable monobra or work with it to recreate for you with pocket for your prosthesis"
Bullshit Breast Cancer
Support, advocacy, blogging, information with friends Mia and Sondra from the USA.
Cancer, Fertility & Me
Helping women with cancer to make fertility preservation decisions.
Cancer Research UK
Comprehensive information about all cancers with support, information, news, funding and research information.

Chemo Cookery Club
The 3rd in the award-winning Chemo Cookery Club series, Cups & Sauces is the most complete resource ever made available to breast cancer patients and their carers.  It provides nutritious recipes with a unique nutritional analysis of each finished dish and also supports people by including expert information on breast cancer specific exercise and definitive hair, nail and skin care from the Queen's personal hairdresser.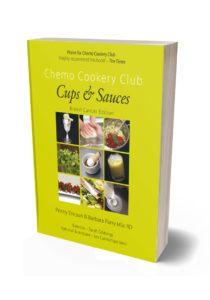 Chemo Gift Bags
For ladies and gentlemen who are undergoing chemo for breast cancer in the Thames Valley area UK.
The Daisy Network
Support group for women who've suffered a premature menopause.
Dr Greg Wilson Consultant Medial Oncologist specializing in breast cancer, colorectal cancer, SIRT and Targeted Liver Therapy.
Dying to Work
Giving terminally ill patients the right to work – if they so choose – the choice is the issue.
Ellie's Friends
Free and discounted products and services for UK adults living with cancer. Part of The Eleanor Rose Foundation, in memory of Ellie Jeffery who died of secondary breast cancer.
Flat Friends
Supporting women after full mastectomy and no reconstruction.
From Both Ends of the Stethoscope: Getting through breast cancer – by a doctor who knows – a book by author Dr K Thompson. This is an important guide for people with breast cancer, written by a doctor who has had breast cancer herself http://www.amazon.co.uk/dp/B01A7DM42Q
From Me To You  Lovely idea.  Write a letter to a friend or family member with #cancer or #DonateALetter to a stranger in hospital via our #charity & help keep them connected.
The Genesis Breast Cancer Prevention Diet
Breast cancer prevention diet online book with good information about how to prevent breast cancer in the first place.  Genesis is now called Prevent Breast Cancer (see in the list below)
Hot Flushes – information from Dr Richard Simcock Oncologist from Brighton on dropbox about management of hot flushes – Oxybutynin is another drug they recommend.
ibreast Book
All what you need to know about Oncoplastic Breast Surgery and Reconstruction
Designed and Edited by Yazan Masannat Oncoplastic Breast Surgeon.
Inflammatory Breast Cancer Research Foundation
(est in 1999) Grassroots non-profit dedicated to facilitating research to improve diagnosis and treatment of  IBC as well as education & support.  They also have a Facebook group
Insurance With – was created as the founder couldn't get affordable travel insurance after a cancer diagnosis.  They specialise in travel insurance with medical conditions. Mention you got the details from my web site.  They have also written this below useful guide.
Travelling with a Medical Condition read the information here  https://www.insurancewith.com/travelling-with-a-medical-condition/
International Travel and Healthcare Limited (ITHC)
Keeping Abreast
Breast reconstruction Support Group.
Knitted Knockers
Free 100% cotton breast prosthetics to ladies following a mastectomy or lumpectomy.
Live Well With Pain
Welcome to Live Well with Pain, developed by clinicians, for clinicians to help you support your patients towards better self management of their long term pain.
Lobular Breast Cancer
The Lobular Breast Cancer Alliance – information from the USA Alliance group.
London Council disability info
London Council disability freedom pass and taxi guide.
Look Good Feel Better and Liberty – great information on how to tie a head scarf.
The Lymphoedema Support Network
Support network for information and treatment to improve swelling and other symptoms.
LymphConnect
Support network and community for lymphoedema patients.
Your Sugery and Rehab – lymphoedema info & video
Macmillan
Cancer support and information (merged with Cancer Back up 2008).
Contact MacMillan for money worries and details on support when diagnosed with secondary breast cancer Macmillan money issues
Be.Macmillan app
Keep track of treatment, make notes and find info and support you may need.
The Male Breast Cancer Coalition
MBCC is a resource for Men with Breast Cancer worldwide.  Many stories of men in the UK who have had breast cancer and self checking video for men here  http://malebreastcancercoalition.org/mens-self-breast-exams/
Metaplastic Breast Cancer
Providing easy to understand information on MpBC to the newly diagnosed, their families and caregivers with information and support network.
Masumi Headhwear UK based company selling luxury chemo headwear for women with heiarloss.
My New Hair 
A charity providing support and advice for medical hairloss by Trevor Sorbie.
One Step at a Time
Getting through chemotherapy with Breast Cancer.  'One Step at a Time' has been written by patients to help others learn from their experiences, compiled by Alison Bailey, a Breast Care Specialist Nurse.
Optifit Bra
Bespoke answer to bra problems and also includes mastectomy surgery. Minimizing discomfort post surgery.
Help completing a PIP form
Advice on completing PIP forms.
Oh Gosh Blog
Some helpful information about PIP, travel cards etc for people with metastatic cancer.
Paraben Free Beauty Products environmental issues highlighted by Breast Cancer Action.
Pink Ribbon Lingerie
Helping women feel beautiful. We are specialists in mastectomy lingerie, swimwear & sportswear.
Plastic Surgeons on Listly worldwide list of plastic and resconstruction surgeons.
Prevent Breast Cancer
The only UK charity committed solely to predicting and preventing the disease. With the only dedicated prevention centre in the country, we work with patients, researchers and leading scientists to discover how to prevent the UK's most common cancer.
PRMA
Male breast reconstruction diagram.
R.A.G.E
Support and campaign group for those suffering injuries and late effects as a result of readiotherapy given for breast cancer.
Recobra
An innovative post surgical bra for post surgical recovery suitable for all types of breast cancer, cosmetic and cardiothoracic surgeries.
Shine Cancer Support
The only UK charity that exists exclusively to support adults in their 20s, 30s and 40s who have experience a cancer diagnosis.
Skarlette bra
For women living flat after a double mastectomy.  Post-surgical lingerie at affordable prices. Designed by flat women, for flat women.
Sniffy Wiffy
A family run company producing chemical free beauty products, minimal ingredients with details of how to self check your breasts. A % of the product sold goes to the Coppafeel charity.
Theya Healthcare
THEYA Healthcare designs and manufactures garments that promote healing, offer exceptional comfort and functionality, and look beautiful.
Tick Off Breastcancer
Sara had BC at the age of 42 and she has compiled lists that help you through breast cancer treatment.
Turn 2 Us
Use our free and easy-to-use Benefits Calculator and Grants search tools to check what benefits you might be able to claim and what grants you might be able to apply for.
Untire
Beating cancer fatigue together – this gives patients and survivors the tools to reduce fatigue.
Womanzone
Specialists in mastectomy wear and will also resize bras for women post mastectomy who cant find bras in their size (eg 32/40/50).
WoMMeN – Word of Mouth Mammography e Network
A web site all about mammography with professionals for advice. Share you stories about breast screening. Join in forum discussions.
World First Travel Insurance
Travel specialists – mention you got the details from my web site.
Worms On Parachutes by Sarah Jane Phillips
A book written after her breast cancer diagnosis in 2007 to raise money for the hospital she was treated at.
www.yellowcard.mhra.gov.uk
The Yellow Card Scheme is vital in helping the MHRA monitor the safety of all healthcare products in the UK to unsure they are acceptably safe for patients and those that use them.
YBCN – Younger Breast Cancer Network
Group for younger women in the UK/Ireland with a breast cancer diagnosis. Private chat group on facebook.
YOLO Jo's Providing "bucket list" events for people with cancer.
Your Surgery and Rehab Great information for anyone after breast cancer surgery.