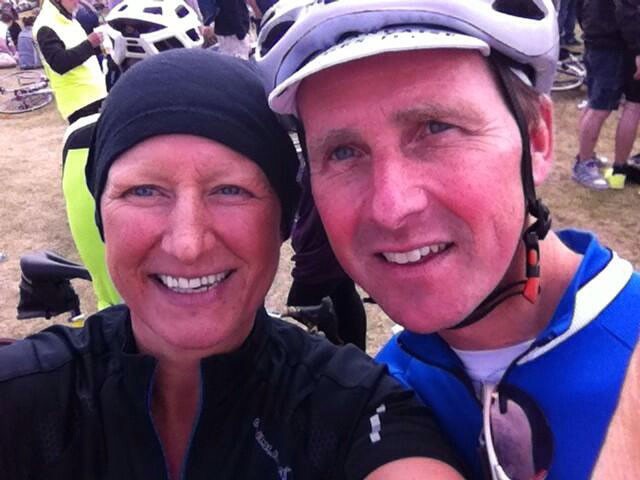 Well the day had arrived and we were up at 6.30am to be picked up at 7am by friends. We had packed a bag of spare clothes, food, energy bars and drinks. It had been raining heavily in the night and was glad to see it was only drizzling with rain. The forecast had said this but for it to clear up later so it was good that it wouldn't be raining or too sunny. We passed many cyclists on the way there with race numbers on already so I knew they were doing the ride too.
We got to the car park, we were mean't to be meeting on a car park at Trafford Park but were directed to another one by stewards, so there were frantic calls as we had 22 bikes in 2 vans waiting to be picked up by the other riders. I handed out entry forms and rider numbers to everyone there and we then went to the pre registry start area with the Team. There was one bike left that couldn't be picked up. I didn't even have Steve's mobile anyway thankfully I found him at the entrance. As we were walking round to collect it, Shayne, who wasn't riding, was wheeling it around so thankfully we could get through together.
As we got through, we met others who we didn't meet at the car park. I was surprised and very pleased to see my Oncologist, his wife and 4 month old baby there too. It was great that he had made the effort to come down to see and meet the Team, have photos and see us off at the start. We had a group photo and then it was time for off.
The commentator said that we were riding for The Christie and wished us well and off we went! Straight out and a left turn onto the bypass. Only 500 yards out from the start and some chap had crashed his bike which was on the floor with him and he had a bloody nose. Thankfully the paramedics were on their way. You don't know what to expect when you haven't done anything like this before and it was a bit frantic sometimes with people cycling at the side of you and groups whizzing round the outside, as well as normal car traffic on the road. It's very well organized but you do have to have your wits about you when sometimes it's quite busy. I had heard that there were over 7000 riders so best that there were staggered start times.
I cycled with my niece, Faye and Charlotte my cycling friend for the first few miles. Jeff had stayed behind with others but we basically rode at our own pace and not all together. It's hard to just stay in one group due to the varied abilities. My nephew Kristian [who manages my web site] was also cycling and he was easily recognizable with an orange Campagnolo t-shirt and white Campagnolo hat. His bike had orange wheels and it was fixed gear meaning that he only had one gear speed to cycle in. Makes the ride SO much harder and hills very difficult if you cant go in a lower gear to climb… I think he'd come from the Tour de France circa 1940 with a post bag on his back… ah but he had his mobile phone in there.
We had to stop at traffic lights all the time and there were a couple of pile ups with other riders, due to cyclist stopping and other riders being too close and running into the back of them. One chap couldn't get his foot cleat out of the pedal quick enough and ended up on the floor! Thankfully he was laughing but that's why I won't wear the damn things, I'd end up on the floor more than on my bike.
There were a few hills in the first 30 miles but nothing like the hills of Saddleworth I trained on or like the Howardian Hills when I did the Arthur Metcalfe Memorial Bike Ride in 2011. It started in Easingwold and 25 miles of hills and 25 miles classed as 'non hilly'. Crikey it was hard…
I cycled and talked to Charlotte's friend Denise who told me about how she had done Reiki and practises complimentary therapies and that if I wanted a session then just give her a ring and she will come to me. I will definitely be doing that Denise, so thank you.
We made a pit stop at around 20 miles and another at around 30 miles and refuelled and rehydrated. It started to get flatter after then and at the 44 mile mark there was a stop at The Saddle Inn where family and friends were there cheering us on. We had a longer stop and some of the others who were behind us caught up. Poor Michael had a puncture before the stop but had sorted it and was able to continue. It was lovely that my children Regan and Faron had made banners and they were so excited to see us. Food and drink consumed and then we were off again. Only 16 miles to go!
We set off enthused by the cheers and got back into it. It was good to have a little rest off the saddle. My left cheek was a bit numb and my feet, especially my right foot was dead a lot of the time. Possibly due to neuropathy but then again I had been cycling for 5 hours so that's quite extreme. I sped off and decided to try to see if I could get ahead so pushed on, on my own, overtaking a lot of the riders. We got out of the country lanes and Jeff finally caught me up at traffic lights where we went on a dual carriage way. We were approx 10 miles in and could feel a slight head wind as it's fairly flat towards the finish. Around 8 miles and the wind got stronger. The trouble was we were heading towards the sea front and it's notoriously windy along Blackpool sea front. We pushed on together and it was great that we sped along at a good 13 mph along the straight roads. It's hard to keep up a steady pace but we did it. At approx 4 miles to go and I was flagging so slowed down a bit but Jeff steered his bike with his right hand and pushed me along with his left hand. We were a sight to see, flying past everyone in front of us, motoring along. It was so hard but I kept up the momentum and we did it and it felt great! We couldn't finish together due to the crowds, which were making the finish very closed in but he pushed me forward and I went over the finish line on my own.
We met some of the Team who finished ahead of us and I went and had a well deserved pint of Strongbow cider [thanks to Mike] and then a massage at The Christie stand. Everyone was buzzing with it and with their HUGE achievement. We waited for some of the others to finish and the clouds were disappearing and finally the sun shone on the sea front. It was a great day rounded off by a no guilt fish and chips tea with lovely friends.
My time was a respectable 6 hours and 5 minutes. I know I can do this in a shorter time as one of the team, Steve who I cycled with, had Strava recording the ride and without stoppage we had a 'moving time' of just under 5 hours. Some of us have already talked of doing it again next year. I hope we can and it would be great if we could get a bigger group together. I really felt good and know I could have completed 100 miles for sure.
We had a real mixed bag of cyclists and thanks to all for making the effort and rising to the challenge, its something I will never forget.
Thanks to all my family and friends for your fantastic support and to my breast cancer sisters on twitter and facebook who were with me every peddle of the way. Many breast cancer friends who I've never met have sponsored me, even one friend from America. I'm truly touched and honoured to know you all. Also a big thank you to Susan Welch who unfortunately couldn't make it to the start but was there in spirit. So glad we met and I have been able to help your fund raising!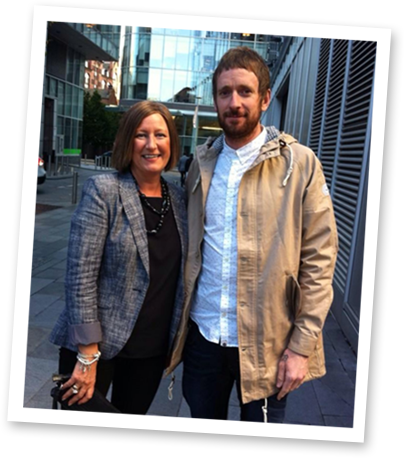 Well, so far, we have smashed the target and raised over £4600 with more cash donations to be added. It's been a great effort for The Christie Hospital and the breast cancer fund we have raised the money for. I couldn't have done it without everyone's fantastic support.
Jo x
Here's my Just Giving page JUST GIVING
Here are the pictures from the ride…
Ps and this is who I saw the other week in Manchester SIR a Bradley Wiggins who won the 2012 Tour de France!