It's the end of another year.
Goodbye 2021
Hello 2022
What will you have in store this year?
I hope that it is a non-eventful year.
Living with metastatic breast cancer all we want is nothing happening.  No health issues, it would be good if everyone could have the same.
I had to revise my friend group this year, I was stressed with (as my mum would have said) having my nose rubbed in it and not supported through the pandemic and feeling like I was the one that had done something wrong.  The behaviour was like gas-lighting.
When all along it was the so called friends who weren't inclusive.  I had to check with other friends to see what they thought about these actions and it was a unanimous "dump them, why are they doing that?" so I did.
No regrets, I feel better and can concentrate on those who really matter.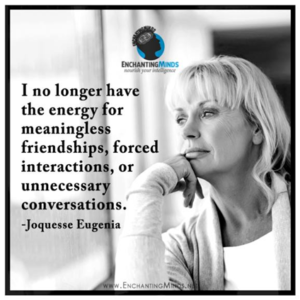 So, I've been rather busy with the work I do with After Breast Cancer Diagnosis and METUPUK.
Retreats
The year has been a good one for ABCDiagnosis even though we were still in the midst of the pandemic, I successfully delivered 4 motivational exercise retreats.  All without COVID hiccups which was pretty amazing when you think about having 44 patients, some on active chemo, some finished treatment, and some clinically extremely vulnerable 11 at a time, with instructors, in a hotel for a 2 night weekend.  We were all safe and really careful and it paid off.  Hopefully, we can get back to another 5 retreats in 2022 and there will be a new system to support booking on the retreats so if you are interested and you have shared your details, I will be emailing you, but as soon as the dates are announced get booking on the website!
Nordic Walking Instructors
The course was delayed most of the year but now we have 12 potential instructors to add to the 2 already trained.  A taster session was held back in December for 3 of the Instructor's and another 9 will be attending a taster session in January.  At the end of January and February we have 2 British Nordic Walking Instructor courses booked for those from the taster sessions will be able to train as Instructors.
People are supported with a full guide (Leslie Robinson you have been an amazing help!) which has everything in it they need to start their own group.  I will be there to support Instructors on the whatsapp group.  And all Instructors will be able to support each other and learn from what each area group do.  It's a great initiative covering a lot of Greater Manchester with these groups and already getting interest from many other people across the UK.
In addition here's some of the work that I have been doing throughout the year:-
Speaking at events and podcasts
Genomics England podcast
Breaking Down The Big C podcast
My Breast Health Podcast
Health Research Authority – I was the keynote speaker
Greater Manchester Cancer presentation recorded for bone metastasis study
Presented at the GMC virtual cancer event
Presented at the Global Alliance toolkit for the infographics I created and from this received support to get them translated into 11 different languages
ABC6 pre recording for their conference about the infographics
A recording for another pharma for a patient and oncology discussion where I was linked to an oncologist in Jerusalem and the organizers were in New York! I had 4 men in my home with a link up.
METUPUK
It was our 5 year anniversary this year and in addition we also were registered as a Charity!
We are doing great things to address many issues and review our strategy in 2022 and we have new members who are focused on the issues in hand. I feel we will make lots of progress with our strategy in 2022! You have to believe.
Working with a brilliant health strategy company who are helping METUPUK and supporting the work we do
MEUPUK supported 3 drug reviews in Scotland and England – Lesley Stephen thank you for being key in the Scottish Medicine Consortium reviews and helping us with the NICE appraisal.
Created an amazing SBC campaign for Breast Cancer Awareness Month with huge help from Jay and Chris and the team from Break Partners which will now have the pink figures touring around the UK.
METUPUK had around 18 interviews for TV and radio on secondary breast cancer day starting with SKY News
Patient Advocacy
Working with pharma to highlight all the issues we have with MBC
Working with Cancer blog about what happened with my own career and life after cancer
Breast MDT reform to review the system in GM Cancer and what needs to change or be done (especially for MBC patients)
Presentation to nursing students
Involvement in research and advocacy
NIHR research project aiming to inform organisations of Cancer services in the NHS
Looked at creating a clinical trial finder with dECMT
Part of the ECMC conference for clinical trials and future network strategy
Various meetings with APPGBC and pharma with their advisory boards
Association of Breast Surgeon conference with a poster on the infographics via GMCancer and the Breast Pathway Board I represent
ESMO conference with a meeting "huddle" and an infographic produced from this meeting with other patients around the world.
Attended a Clinical Researchers Coalition re clinical trials
MBC life interview
I have helped with the start of the Oldham 5KYW but not attended one yet. Hope to attend in the New Year!
Reviewed GMCancer's new patient portal
Safefit – after joining the research as a patient and guided by Sharon part of the Safefit team I joined her online fitness after the trial had ended and do LIIT and pilates classes to mix up the exercise. I do a daily class of LIIT – Low Intensity Impact Training with weights included.
Completed treatment number 127 for metastatic breast cancer
One thing I am really looking forward to is hopefully getting my driving license back after having to surrender it in April 2019 due to the brain metastasis.
Lastly, it's been a hard year again with the loved ones and friends that have died.  Living with metastatic cancer means that this is a regular occurrence and sadly 2021 has been hard for many of us who have had to deal with the grief.
We won't forget them.
And finally…
It's been a busy year keeping fit.  I have Nordic walked nearly every day this year and here is how I've ended 2021 with elevations that mean that I've ascended 3x up Everest!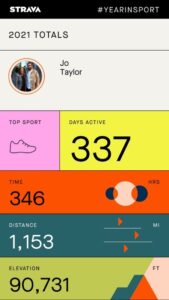 Happy 2022
Love Jo x