PRESS RELEASE
METUP UK - A new advocacy group for people living with secondary breast cancer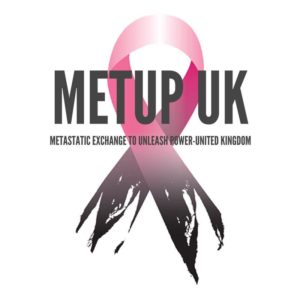 A new advocacy group is being set up to lobby for a better deal for people living with secondary breast cancer, a terminal disease that is responsible for around 12,000 deaths in the UK every year.
Headlines about the increase in breast cancer survival are common these days, thanks to earlier diagnosis and better treatments. Women know and recognise the need to get breast changes checked quickly and more and more women are living for longer after being treated for primary breast cancer.
But while primary or early-stage breast cancer is curable, secondary breast cancer is not. Secondary breast cancer occurs when the breast cancer cells spread from the first (primary) cancer in the breast through the lymphatic or blood system to other parts of the body(1). Those who survive their initial diagnosis of primary breast cancer live under the shadow of  it returning. The risk of recurrence can be lifelong.
In the UK, only 15 out of 100 women (15%) are alive five years after they are diagnosed with secondary breast cancer(2). Median survival for secondary breast cancer in developed countries is an estimated two to three years(3).
While we acknowledge the successes in the area of primary breast cancer, the time has come to take things forward. Education and awareness need to expand and focus on secondary breast cancer. UK charities are doing a good job in trying to raise awareness but more needs to be done. We want to push faster and harder for change.
Time is precious. Every minute of every hour counts. We need more research and better treatments. We don't even have accurate data on how many people are living with secondary breast cancer in the UK. We do know that in the UK alone around 12,000 people a year die from this disease – 11,643 women and 73 men in 2012(4). One thousand families a month are affected and their lives will never be the same through losing a loved one. Some 1,430 worldwide die every single day.
This is shocking. It needs to STOP. Help us work towards this goal.
The Inspiration for MET UP UK
American breast cancer activists frustrated at the lack of progress on secondary breast cancer created MET UP in the US in April 2015. MET UP (www.metup.org) are active on social media and made connections with UK-based breast cancer advocates. As a result of this relationship and with the support of MET UP, UK breast cancer advocate Jo Taylor decided to create MET UP UK. Jo, a 47-year old mother of two, lobbies for progress on secondary breast cancer and lives with the disease herself. Read more about Jo's work on www.abcdiagnosis.co.uk, including her lobbying of parliament.
Secondary breast cancer can also be called metastatic (hence MET UP), advanced, late-stage or Stage IV.
MET UP UK's objectives are to:
Educate and inform
Raise the profile of metastatic breast cancer nationally
Question where money raised through fundraising goes
Improve long term survival
Ensure everyone counts #datasaveslives
Sources
Contact: metupuk@abcdiagnosis.co.uk
Follow us on FB https://www.facebook.com/METUPUK/
Twitter @metupukorg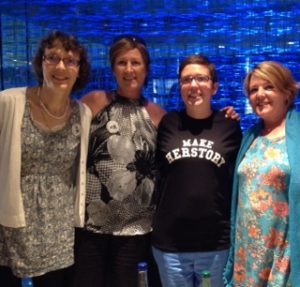 Bridget Jones, Jo Taylor, Beth Caldwell, Rachel Taylor-Manning