ESMO – European Society of Medical Oncology (#ESMO16)
The conference
I applied via a patient advocacy grant because of the work I do with After Breast Cancer Diagnosis to get a grant for flight & accommodation & travel to attend the conference which was held 7 – 11 September 2016.
For some reason I didn't think I would be accepted from my application but I was contacted a week later to say that it was successful!
ESMO16 is the biggest European cancer Oncology conference held every year.
Over 20,000 people attend (in fact it was the biggest attendance they had this year) & you can talk to health care professionals, pharmaceutical, manufacturers, charity & other patient advocates.  There were around 120 advocates from all over the world attend.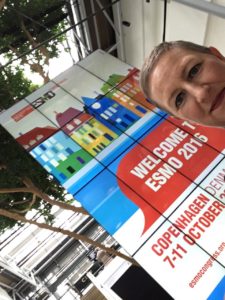 The ESMO advocacy team had a facebook group prior to the event, to connect with other advocates.  We had a meet and greet on the Friday night but it was hard to find specifically the breast cancer advocates. Maybe next time they should have group meetings within the meet and greet so that you can locate specific disease types.  But saying that, it was nice to mingle with other people chatting and sharing different experiences.
There are many, many sessions with speakers & they give presentations about up & coming research, development, new drugs, radiotherapy, new procedures etc.  There is a large programme of events in handbook format (or app) for what is happening each day and in which area and you look for whatever that may be relevant to you and just turn up at the sessions.  Some sessions are huge and in the Copenhagen room they have many screens as you cannot see the speaker at the front. That is how big the conference is!
To give you an idea of size I walked over 10,000 steps every day without trying.  I'm sure that the conference space is over 5 football pitches in size.  It really is huge and you have to navigate around finding each session which is hard in itself.  Everywhere seems to look the same and even with a map I got lost many times but thankfully there were people there to give you directions to where you were looking for.
It is a great way to learn about your specific cancer & meet professionals & others in the cancer fields and meet industry specific companies, it's a great networking opportunity.
That's what advocacy can also help you with, learning, connecting & sharing & helping industry also understand patient needs & wants.  There were many patient advocacy session held and many professionals were very interested in the patient voice.  One of the sessions about advocacy was completely full and thankfully Christine my friend and "bunk buddy" who I stayed with at the apartment together, had saved me a seat so just as they closed I was able to get in.  Patients were tweeting saying that they were patients and why could they not get into the session!
The days were particularly long and I would arrive at say 10am and I could still be there at 7pm.  Some sessions went on until 10pm but mainly again it seemed for industry professionals.  They days went very quick and even though it was tiring it was worth it professionally and personally.
Bunk Buddy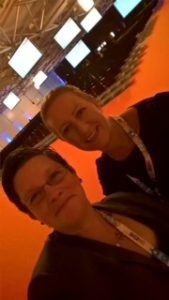 I stayed in an apartment which was a short walk to the metro and just 10 minutes direct on the metro to the Bella conference centre.  I had left booking accommodation late and I had done some work with Patient Power Europe and they were also attending so they took the reins in sorting out my accommodation and I shared a two bedroom apartment with Christine Bienvenu (@SwissePatiente) a breast cancer survivor and advocate and does a similar thing to me as a patient advocate but in Switzerland.  Christine is originally from Canada and it was lovely to meet her and share our experience together as it was also her first time at ESMO.
We met up in quite a few of the same sessions due to sharing the same passion about patient advocacy in healthcare and breast cancer.
Patient Power Europe
Whilst being there it was great to hook up with PPE and they took care of me so well.  I was introduced to Charlie Grieve the beginning of this year as he wanted to do a series of videos with me at my home about my diagnosis, exercise, fund raising etc here are my links to the videos
Taking the first steps into treatment
The psycological impact of cancer and its treatment
What can I do to manage the effects of chemotherapy and other treatments
Fundraising for The Christie Hospital in Manchester UK
PPE do lots of filming of professionals at disease conferences like ESMO to share the information the professionals are doing.  I wanted to get out and see some of Copenhagen so they invited me out the first night for a meal and I met the team.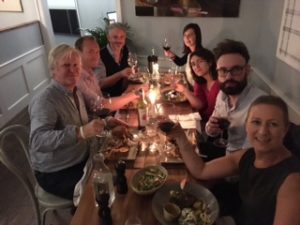 Charlie wasn't there that night but I met Teresa, Rose, Dan, Chris and Steve.  They're a great team and we had lots of laughs and fun together and ate in some lovely restaurants.  I think I would have been a little bit lost without them so thank you for making the conference special.
Paxman scalp cooling
I had been having chemotherapy (I was still on chemo when I attended ESMO) and as it was the 4th time I would have lost my hair I decided to try scalp cooling back in August 2016.  It doesn't always work but I wanted to give it a go.  It had thankfully worked for me but I now have a more prominent bald patch at the top of my head due to coning (technical term) but at the conference I felt so pleased that I didn't have to wear my wig.  There was then a small patch at the top before it started falling out more but I used Batiste dry shampoo which had a colouring in it and it worked a treat to cover the hairloss area.
Claire Paxman had talked to me whilst having the cold cap about how to deal with the pain and coldness etc and was very helpful. Whilst at ESMO they had their stand and I went to meet them to say thank you for the support.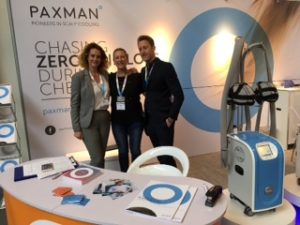 It's a family business and Claire works with her brother Richard.  They very kindly asked me to join them for dinner on the Sunday night and as Northerners do, we got on like a house on fire.  We had a giggle for sure, didn't we Carmen? (sorry Claire!) Joking aside, they have a very heartfelt story of why they started the business.  Their Mum had breast cancer and sadly died of secondary breast cancer when only in her 40s.  Devastating for the family, but out of this, their family business (which was beer cooling!) turned to how to help people going through cancer and the most devastating issue for their Mum was losing her hair.  Their Dad decided to invent a hair cooling system and the rest is history.
Thank you for your support, friendship and for your kindness which I won't forget and I'm sure we will meet up again in the near future x
I also met a couple of twitter friends Deborah Alsina the CE of Bowel Cancer UK and Dr Allan Jordan from Manchester's Cancer Research UK whom I stumbled upon outside one of the sessions.  It was lovely to see you both!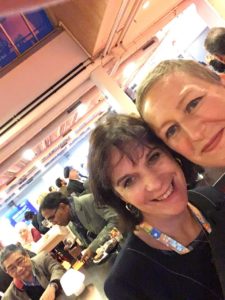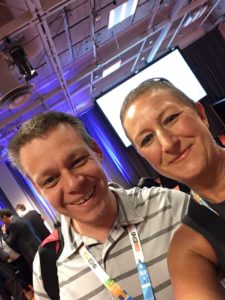 Top Influencer of ESMO 2016
Some of you may know that I tweet quite a lot (haha) and whilst I was at ESMO statistics on symplur were tweeted that I was one of the top influencer on twitter!  This is little little old me on my own managing abcd alone and I was a bigger influencer than Astra Zeneca a company that is worth billions and employs over 50,000 employees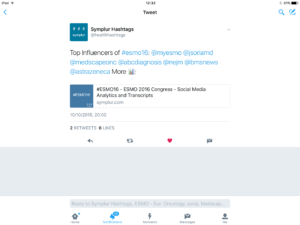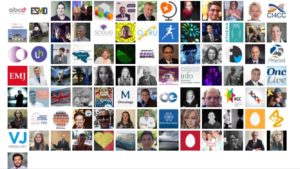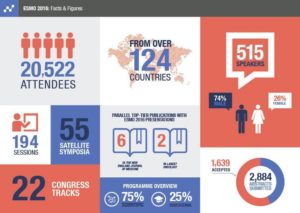 Copenhagen
I was booked to fly out Tuesday evening and didn't realize that most of the sessions were over on the Monday.  There were just a couple of overview session in the morning which due to packing for home, I had to miss.  But this gave me change to see if I could see a bit of the city before I went home.  I hopped on the metro after asking a very nice lady which way to go (I was totally lost).  She was lovely and she was getting off in the centre so I asked if I could go with her to get my bearings.  So from her advice I was able to drop my bag (for free) in the store I was in (it was like John Lewis) and she told me where to get on the Metro to get direct to the airport.  Off I went around Copenhagen, I had a look around a few shops and then I came across a canal boat trip which was just leaving so had just over an hour being shown the sights and landmarks of Copenhagen!  It was excellent but very cold.  I was actually a bit shocked that it seemed colder than Manchester!  I even bought a pair of gloves and a hat.  Anyway trip over and I sauntered back to the store to have lunch and then collect my bags and head to the airport for the flight back to Manchester.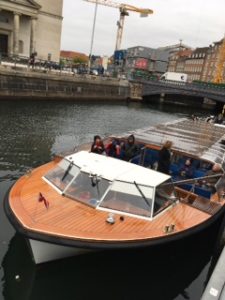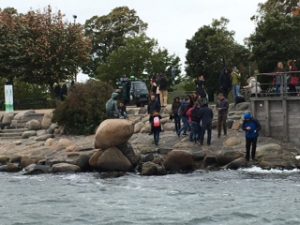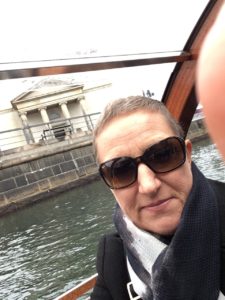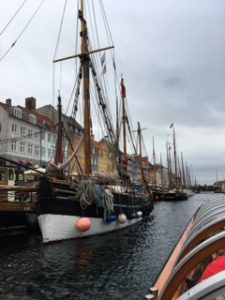 Heading home
I had started sneezing the Tuesday morning before I left Copenhagen and by the time I was on the plane I was sneezing and a full blown cold was emerging.  I felt sorry for the poor woman who was sat at the side of me!  I really suffered and my ears were so blocked that I had the most awful flight.  20 mins before we landed my right ear had gone deaf and it was painful.  I looked to the steward who said "is it your ears" and I nodded and nearly cried.  He brought me some nasal drops and said he was going to give me some "mickey mouse ears" to which he brought me two plastic cups with a warm damp paper towel in the bottom of each and said put these over your ears until we land.  No I don't have a photo of this but as you can imagine I looked rather silly but hey, if it worked I wasn't bothered what I looked like! So for 20 minutes I sat holding the cups on my ears and it did actually help with the cabin pressure and pain.  Thankfully after landing they popped and went a bit better but that is probably the worst flight I have ever experienced as I never normally have that problem.  Must be horrible for anyone who suffers with ear problems on a flight, especially young children.
Anyway Jeff and the children met me at the airport with lots of hugs and kisses.  The only time I've been away so long is in hospital and normally they've been into see me so it was a long 5 days without seeing them in person.
It was nice to be home.
Jo x