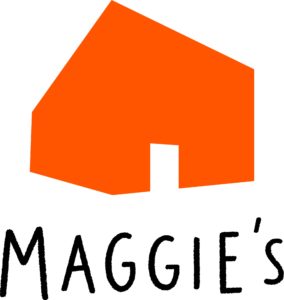 I attended the opening of the new Maggie's centre which is located at the Royal Oldham hospital. The
Oldham Maggie's
centre is the 21st building built by the charity in 21 years so it's quite special. It was a great event with local dignitaries, business people and friends from the Maggie's fundraising committee of which I help volunteer (I also use the Maggie's in Manchester across from The Christie as I have treatment every 3 weeks for secondary breast cancer).
The building is called the Sir Norman Stoller building, named after a local businessman and philanthropist who gave an extremely generous donation that funded the build and initial running cost of the Centre.  The opening was on Whit Friday, and if any of you know what goes on on Whit Friday in Saddleworth, it is also a bit of a pain to get back into Saddleworth due to "the biggest brass band event in the world" which happens in the sleepy Saddleworth villages.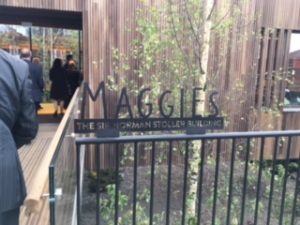 Another member of the Maggie's fundraising team, Diane, lives just up the road from me and was attending, so we arrived together in one car (the parking fairy was looking down on me!) and I was able to get a space virtually outside the centre.
To give you a brief understanding of the centres and who Maggie was, read here https://www.maggiescentres.org/about-maggies/our-story/who-was-maggie/
The centre is an feat of modern architecture built on one of the smallest plots, yet it seems a large building with room outside aswell.  It has been specifically built to take in the best views and looking over houses to the rolling Lancashire hills and architecturally it is a beautiful modern building.  I yearn for a home like this from watching many Grand Design programmes on the TV.
You walk in at pavement level opposite the Victoria Breast Cancer Unit and the building is on stilts giving an underground garden, waterfall and to one side another garden with greenhouse for patients to use.  It's beautifully landscaped with outdoor furniture for patients to use.  There is a large veranda and glassed wall one end which looks very Swiss chalet like.  I can imagine sitting there in the snow with a blanket on your knee sipping a hot toddy (in my mind).  The floor upstairs in the building is bright yellow coloured and this brings a light and a sunny sunflower like feel to the big room that is kitchen, dining (the Maggies kitchen table feel is very much in mind here) meeting and social area, a few small meeting rooms off the main room and then open computer areas for patients to access online resources.  The wooden cladding all around gives another warm and indoor/outdoor feel to the place.
I had wore a bright yellow top to the opening (complete fluke) and I had joked as Maggie's husband Charles had a green suit on (there was a green sofa) so I commented "don't stay still as they're either going to sit on Charles or walk on me" – story of my life…
The site was actually the old mortuary and in the middle of the building is a circular glass tube which has again a beautiful inside/outside tree reaching up from the underground garden below – a "tree of life".
Everything in the building is specifically designed for cancer patients, even down to the wooden door handles as many patients can experience peripheral neuropathy which is a nerve ending problem with fingers/ hands and toes/feet.  Alex de Rijke (
dRMM Architects
) is the amazing architect and there is no surprise that he was helped with all this specific design by his partner Lucy.  He spoke about Lucy in his opening speech.  Lucy has stage 4 bowel cancer.  Alex was in the middle of his speech at the opening when Lucy arrived.  I immediately knew I wanted to speak to her when he said he was surprised that she had made it to the opening (some black humour being thrown into his comment).  Being a cancer patient I understood this but don't think many did…
I was honoured to speak to Alex as I congratulated him on the building.  I told him I had stage 4 breast cancer so I totally get why he had done this and how brilliant it was for Lucy to be able to input in the design.  He wanted me to meet Lucy and she came over and we sat together having some food.  I immediately felt a connection – that's the issue with cancer, it does bring patients together as we don't feel so vulnerable or alone when you have someone who completely understands you.  We hugged each other and we quickly got talking about "how shit is cancer?!" the issues, the problems, the misdiagnosis (hers), the chemo, the side effects, the surgery, the crapfest that it all is.  We cussed and didn't let anything hold back.  It was like we were the only two people in the room.  Fucking bastard cancer.  I didn't want to talk to anyone else.  We sat eating some lunch and talking about portacaths and PICC lines (we compared ours) .  Lucy and Alex both knew the reality of the disease but it was just perfect that she could make the opening of this beautiful inspiring building.  I met one of her daughters who had also brought their dog along from their home in London.  You could see how much she loved her mum, how much they loved each other.   There was so much I wanted to say and I knew I had to leave early and it would be he last time I would see Lucy.
Lucy was dressed in dark colours but wore these amazing bright fuscia pink ankle boots.  Even though I don't like pink due to the breast cancer connection, they were fab.  In the darkness of cancer there is brightness.  I wanted to take a photo of them and say please put a little bit of Lucy on the wall.  But Lucy was all around, it was obvious to me that this was Alex's "Taj Mahal".  It was a huge testament to their love and of Lucy.  Something that will last forever.  No matter what happens there will always be this piece of Lucy and their love in Oldham and I won't ever forget our brief meeting, ever.
I was extremely saddened to hear that Lucy was in hospice and she died shortly after the opening of Maggie's Oldham, but I know her spirit will live on and I am very grateful to have met her.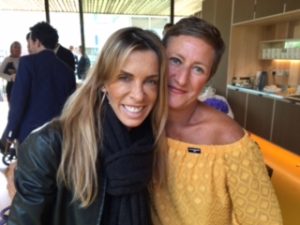 The building was featured in Gardeners world here is the link https://goo.gl/4Xoa6T
If you wish to donate to Maggies, volunteer or help fundraise in anyway for any of the Maggies centres then please see the link below.  For help with Maggie's Oldham contact Laura Tomlinson