As someone who had primary breast cancer and then diagnosed with secondary incurable breast cancer, I wanted to show my support for this campaign as Fiona and her team have helped me every time I have been away on holiday.
With primary breast cancer I was able to use any provider because I didn't have the worry of living with cancer.
Being diagnosed with secondary breast cancer, you think that you will never afford to travel because you will have to pay extortionate amounts of money to be covered "just in case".
Family holidays are so important to patients or to be able to get away to have some me time, to make memories and to relax and have good times with your family or friends.
InsuranceWith have always been accommodating, they have gone through every issue with me if I had one, due to my treatment. We travel frequently to Europe, so even when I was on chemotherapy, they would insure me for a very reasonable amount, especially when I attended a conference, it was added to my policy. These days, due to my current status of being "no evidence of active disease", I have a yearly policy at an extremely reasonable amount.  If I travel to other countries, or other parts of the world (like I did earlier this year visiting Bali with my best friend who lives in Australia), then I just pay an additional premium to keep me covered.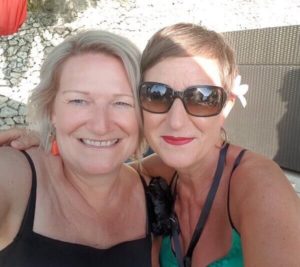 My cancer diagnosis had a large impact on my finances also. During my treatment I was able to work – but that's the unpaid work I do with abcdiagnosis. I already had to leave my job as I was on maternity leave when I was originally diagnosed 12 years ago – my daughter was only 5 months old and my son nearly 2.5 years old. I left work to look after my children after my diagnosis and then developed the website and work I do now. The financial impact was HUGE.  I didn't work, only received disability living allowance and then they stopped this after 3 years and I had no income whatsoever. This affected what we could do, and we were not able to go on as many holidays as we wanted to. When I was re-diagnosed with secondary breast cancer, I then applied and was awarded a low-level PIP.
After my diagnosis, I had many friends who supported me (but some who sadly along the way disappointed me and didn't support) and some family were just not there as they should have been.  You live for holidays and still do; they are what we all look forward to mostly as a family – and that's why I always signpost to InsuranceWith through my website and tell many friends or people who attend my exercise #abcdretreat about the services they offer.
I will always highly recommend InsuranceWith and here's looking forward to many, many more holidays using them.