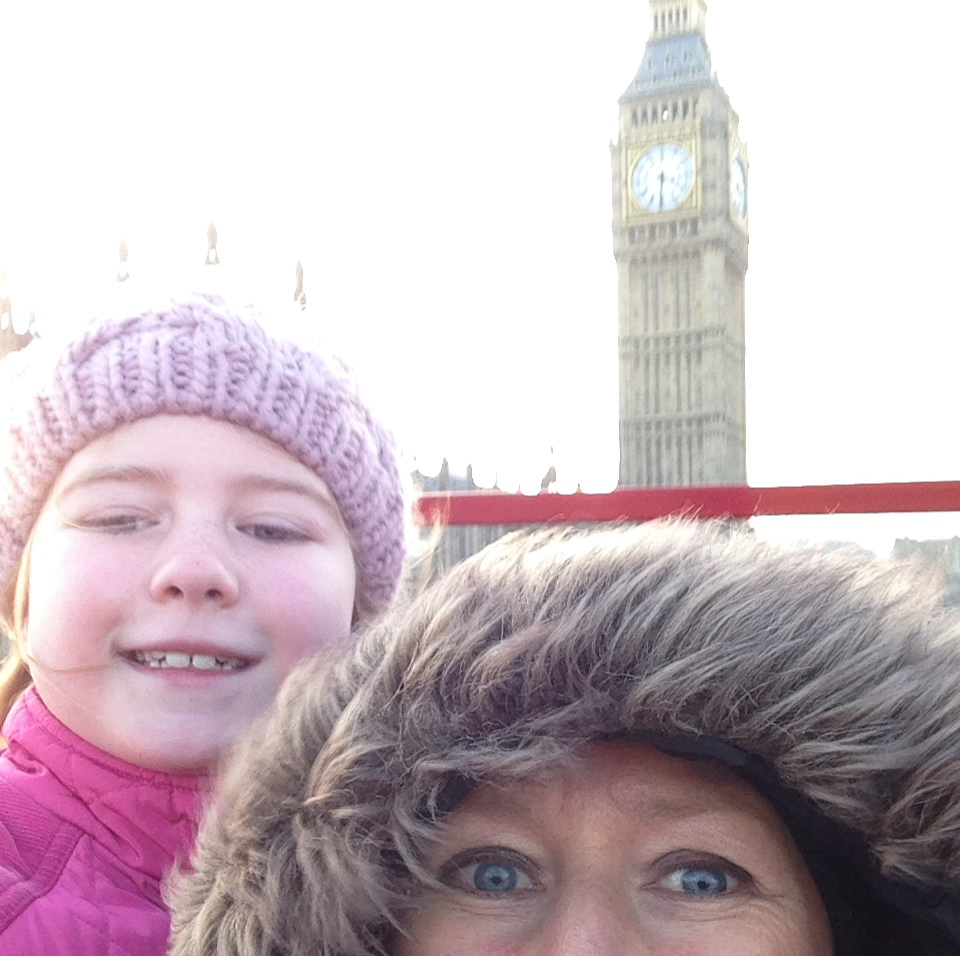 Before the end of last year my Breast Care Nurse suggested that I apply to a charity for a special grant. The HoneyRose Foundation are a registered charity and grant special wishes for people suffering from cancer or other life threatening illnesses to give them a special day or weekend for them to enjoy. They specifically provide this for people aged 40 and over.
We had wanted to take the children to London for a while now and it was on my list of things we wanted to do in 2015. I was surprised when just before Christmas they confirmed my application had been accepted. So myself, Jeff and our children Regan and Faron were off to London by train for 2 night staying in a hotel in the capital.
We surprised Regan and Faron on Thursday night that they weren't in school the next day and where we were going. Of course they were very excited. An early 6.30 am start and we were at Manchester Piccadilly station in the first class lounge for refreshments ready to board the train to London. We boarded and settled into our seats and were ready for the journey South.
When we arrived, fed and watered after breakfast on the train, we took the tube to our hotel, booked in and then made our way to Victoria Station for a vintage bus tour and Thames river boat cruise. It was a lovely sunny day but very chilly on top of the bus. The bus tour was a great way to see London. Buckingham Palace, Westminster Abbey, Big Ben, the Cenotaph, Eros, Nelsons Column, The National Gallery, Horseguards, The London Eye and the Tower of London were the main attractions seen and a few others thrown in along the way. The river boat cruise was one of the big catamaran ferries that took us down The Thames seeing London Bridge, The Shard, the Gherkin, the Walkie Talkie, Tate Modern, to name but a few along the river until we arrived just past the London Eye and at Westminster Bridge. We departed here and finished the bus tour going lastly past the Houses of Parliament just as the sun was setting. It was a lovely end to a great first day.
We arrived back at the bus station and decided to have a quick trip on the tube to Hamleys toy store where Faron bought a teddy and Regan bought a remote control flying drone. On the way back we had a walk through Harrods. It was so much like Harvey Nichols and Selfridges in the Trafford Centre which was quite disssapointing! Unfortunately no time to visit upstairs. Oh well, at least we saw it. We called at Oxford Circus to see the famous lights before heading back. We had a meal in a nearby hotel that night which was part of the weekend. Tired, we were ready to go to bed by 10pm ready for another full on day the next day.
We were up early on Saturday to visit the Tower of London. The Crown Jewels display was stunning (no photos allowed) and the history of the tower was fascinating with what had happened and who had been held as prisoners there. Looking in one of the prison cells with writing carved in the stone walls by some of the prisoners took you back in time. It was quite haunting what had happened such a long time ago. We looked around and went in the various exhibits then headed off for lunch before travelling on the tube to the next destination in the afternoon.
The Natural History Museum was the place the children wanted to visit the most. They loved the displays and the building was very impressive. There were so many things to see and do that 4 hours just isn't enough but we saw dinosaurs (Dippy being one of them). The exhibit about the earth and weather was very interesting and Faron had been researching about freak weather at school so the Tsunami and volcano information was very interesting for her to see.
We had dinner out at a restaurant in the evening near to the museum and again tired, after a long day, we went back to the hotel ready for our last day of sight seeing.
Sunday morning we packed ready to leave then went to the British Museum which was 5 minutes around the corner from where we were staying. What an amazing building with huge columns and statues, it was very impressive.
On entering we first saw the 'cradle to grave' exhibition which showed photos of people's lives and the drugs that they had throughout their lives – I found this very poignant. We walked into the main area with the new glass roof which was spectacular, the stone work and glass is beautiful together, a mixture of old and new.
The exhibitions were in different halls and rooms which you walked through. We took our time in the entrance area. The floor in one area was a made of glass to give light down towards the basement exhibition rooms. We didn't have time to look around every exhibition but Egypt was impressive, the size and the age of the artefacts is quite mind blowing. Stepping back in time and to think that they were thousands of years old and some still even intact, it is truly wonderful.
Ramasees II was a favourite of mine. I had watched a programme about the King so was interested and it was very popular with other visitors. Part of the head was missing but recreated. It was an impressive thing to see. From the photos I took, you will see a husband and wife sat together. It's another poignant photo as the woman's stone breasts seem to have been hacked off. Whether that is through moving it or that someone has vandalised it, I'm not sure. I also found a mummy displayed who actually died of ovarian cancer. Even cancer was around 1000s of years ago, as per the recently reports of the mummified body of a woman who died with metastatic breast cancer.
It was time to leave and catch the train but before we did we were able to see a piece of the Berlin Wall (in the photo it says DOWN) which was taken down 25 years ago in 2014. It's unbelievable that a country only such a short time ago had a dividing wall to stop defection.
Back at the hotel, we picked up our bags and left to catch the tube to the station. We left our bags at Euston in the lounge before having a quick walk to somewhere I had wanted to see. Nearby, minutes away and we saw St Pancreas Station. I had seen this on the TV and wanted to have a look for myself. It is another impressive and beautiful building made of red brick and sandstone. As you walk through the main archway you are met with this huge vastness of a train station. But where are the people? It was so quiet, I saw a lift and we ventured downstairs. That's where everyone was! There was a large shopping area underneath the station which also has the arrival and departure for the Eurostar travelling to France. We had a quick saunter around and then made our way back to Euston to collect our bags and board the train home.
It really was a fantastic break and we all loved London.
If you would like to make a donation to the HoneyRose Foundation to help people to make wonderful memories for them and their family then please see their web site below.
www.honeyrosefoundation.org.uk
Thank you so much to the Honey Rose Foundation for such a great memorable weekend.
Jo x
Please share this blog to highlight the great work that this charity does.