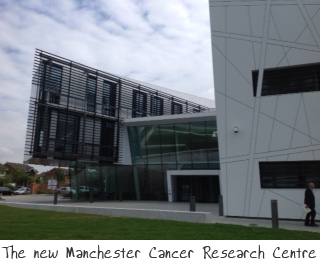 On Tuesday 16th June I was honored to be asked by Cancer Research UK to attend the opening of the new £28.5 million centre located across from The Christies building where I attend as a patient. I want to give you a feel for what happened on the day and what the fuss is all about.
The name of the campaign that the building was built for was the More tomorrow's campaign.
The MCRC's main aim is to building better Quality Of Life for patients and families.
On arrival I meet Ali Barbuti from CRUK, Clare Dickinson from Christies and Katy Holiday from MCRC.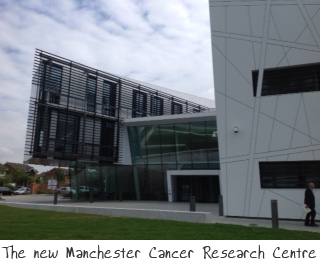 I was delighted to meet Clare Callaghan @keepsmilingcsc who is surviving womb cancer and whom I was already following on Twitter. I also met Matt Dillon who blogs on www.cancercanwait.com and has a Facebook page about his experience with brain cancer. Matt had just finished radiotherapy for a reoccurrence and a week later was starting chemotherapy before flying back to his home in Australia. Good luck Matt with your treatment, thinking about you.
The day started with a video by Prof Nick Jones who introduced the building and why there was the collaboration between Christies, Cancer Research and the University of Manchester. The main ethos is to drive personal medicine. New drugs rates are low and they want to match patients to the correct drugs that work for them. There was a BRCA 2 gene patient story where someone was being offered a choice of different treatments due to this new work.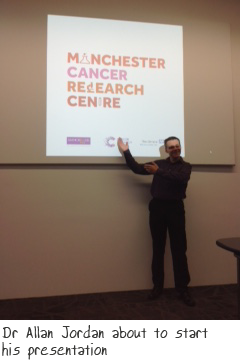 The building is World Class bringing Scientists and Clinicians and other professionals together in one building to share information, learning and science.
There are 5 labs (#distractinglysexy of course even without any people in them) with different cancers being studied in each of them. Communication is KEY to develop new drugs and be able to bring new talents under one roof, which is why this will work so amazingly well. One example given was that there has been little impact on Melanoma over the last 40 years but there are new treatments that will help them that have arisen with collaborations. There has also been research on small cell lung cancer working on clinical trials to help patients live longer.
PhD students at the research centre will be trained in the labs by world leading professionals. MCRC are trailblazers bringing Scientists and Clinicians together in one place.
Then Dr Allan Jordan started his presentation and advised Manchester was THE best place to do work in cancer research and they are hoping to continue this with the new building.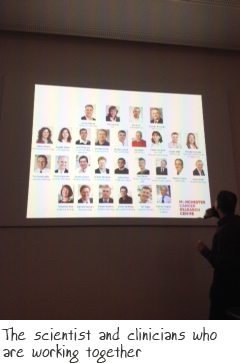 In 1970 only 25% survived a diagnosis of cancer. Now today's cancer survival rate across the board has increased to 50%. Quality of Life and Overall Survival is what they are striving for.
Local statistics in the North West show that the death rates in Manchester total 35,000 people who die with cancer each year. The most prevalent diseases are breast, lung, bowel and prostate. Even though they are concentrating on these they are also looking at other cancers that may not be as popular but may warrant research.
There were amazing facts and figures about your body – did you know that in just one minute the body has made 300 million new red blood cells? We were told to hold our little fingers up and another fact is that there are more cells in your little finger than there have been people in the world! Mind blowing.
We need cells for growth, healing and making new cells. The reason why cancer happens is that there is an accumulation of faults. This can be due to the DNA, carcinogens, natural cell progressions inheritance or a virus.
What the MCRC are trying to do is to help improve care by better understanding – better clinical understanding, better application of this understanding to also give better clinical trials.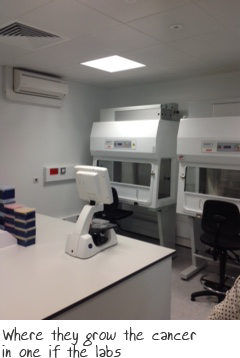 History – The Christie hospital was 'born' in 1892 and it was called "the home for the incurables" it was the first hospital outside London for treatment of cancer. The Christie was named after Philanthropic Mr and Mrs Christie.
Interestingly there was a development of a new practice called Radiotherapy. The Christie had to buy lead radium and surprisingly the local beer brewery actually funded the purchase of radium so you can say that Radiotherapy was originally was funded by beer! Cheers!
The name for radiotherapy that everyone still uses, apparently, is called "The Manchester Method".
In 1969 TAMOXIFEN was a surprise discovery out of oral contraceptives by three researchers and went into clinical trial with 46 patients as targeted therapy. Ten patients showed immediate response and tumour shrinkage. This was the first clinical trial and the FIRST real targeted therapy.
The HPV vaccine was made in Manchester. Looking at areas of disease will help other diseases and help push boundaries.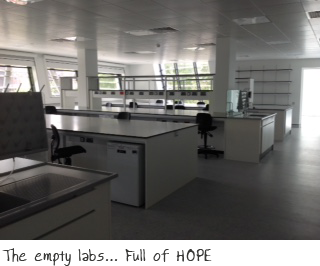 Manchester was the first ever UK centre of excellence for Prostate Cancer research.
There are many new professionals that have been brought together from around the world to work at this new building.
The Christie have the biggest single site, early phase clinical trial unit in the world. Did you know to get a new drug to market costs between $800m – $1300m? That's a staggering amount of money.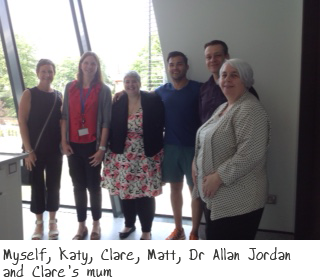 The NHS is an amazing community for being able to work with specialist cancer hospitals for clinical trials due to the amount of people that are in the system in the UK. This, we are told, is what is different to other countries around the world that have private healthcare. Many hospitals work in isolation. The NHS is used so that we can look at all patient across the board to help to get them in trials.
Clinical trials deliver 36,000 chemo treatments a year and it has over 2400 patients participating in 400 different trials.
Current activities in the drug discovery team include:-
PARP inhibitors are looking into Triple negative breast cancer targets the only one in the world doing this.
GSK – epigenetic therapy
Emerging targets in lung cancer
Treatments for leukemia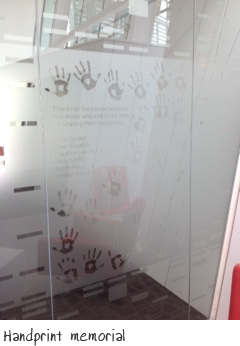 An amazing story was about using a compound that was patented in Barcelona and two scientists quickened up the trial process for patients to go straight to trial. This was all due to two scientists chatting over a beer (cheers again! there seems to be a pattern developing…) and this then resulted in the drug being able to go into early trial instead of the usual lengthy process. This trial was for acute myeloid leukemia and it has been very successful.
MCRC are able to provide cancer genome sequencing for £1500 instead of a huge amount of money it use to cost and it will read the patients sequence overnight from a sample of the tumour.
It is important that MCRC collaborates around the world and fosters collaborations with other hospitals and pharmaceuticals. There are some 30 new professional people employed working together bringing great minds together from all over the world. Working with The Christie, Cancer Research UK and The University of Manchester they are partners giving strength to cover huge areas in cancer research.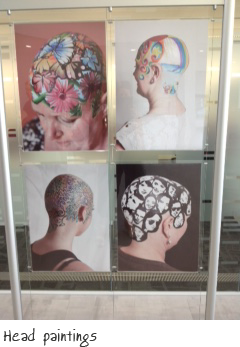 The presentation was extremely interesting and highlighted just what an amazing place Manchester is and the hope for the future of cancer treatment.
I for one was blown away by what Manchester has done and still is doing, for the world, in relation to cancer treatments and therapies. Dr Allan Jordan provided a brilliant insight as to what they were doing. Thank you so much for this.
Next we were treated to a tour around the building and through the labs upstairs. It was very emotional to think that these pristine, white, empty (apart from chairs, tables and microscopes) labs will be a hub of activity soon when scientists and clinicians are moved into them to actually work. Not just that, but we could be standing in the exact lab that they find a cure for cancer or specific cancer or specific treatment for a type of cancer.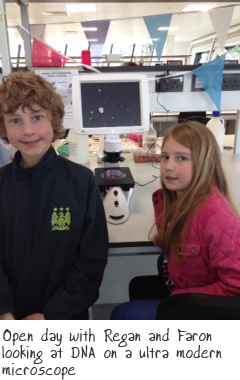 We had our photos taken together and then made our way back downstairs to the cafe. They have seating and workspace areas all around for colleagues to work and talk to promote open discussions about what they are doing and a large cafe area for them to sit and chat. It does seem very much like the 'Apple' of the science world and similar to these new start up companies that work, chat and socialize together. Its a hugely exciting time for everyone involved.
There are some photos of the entrance of the building which have a glass panel with hand prints in them and then some patients who had their bald heads painted for some beautiful artwork.
On the following Saturday we returned as a family to the building so Regan and Faron could see the building and have an understanding of what goes on in science. They were shown by a scientist how to extract DNA from a strawberry and we still have this in our fridge. I must say that Jeff and the children were completely blown away and it hopefully has fuelled an interest in the children into science. Who knows what the future holds.
If this is the way forward then they must be encouraged to do whatever they need to do to help these amazing minds unlock the secrets of cancer which will bring hope to all cancer patients.
Manchester is an amazing place that I'm hugely proud of and I'm sure that these advances in medicine will continue.
Thank you so much for inviting me to look around and to meet you all, it was an amazing experience and I look forward to hearing about great new discoveries in the near future!
I'm forever hopeful.
– Jo x
Here is the BBC report about the new MCRC building on YouTube and we are on the last few seconds.