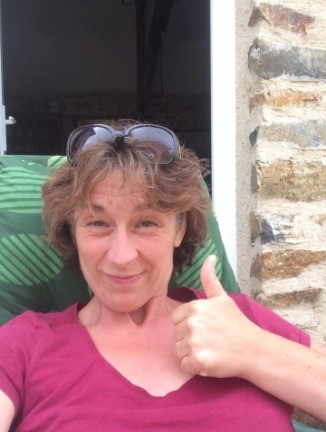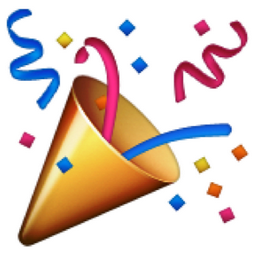 In 2013,had decided to move to France, my husband had retired early, and after 15 years as a French teacher; now that the kids had gone to University, it was time for a change.
March 2016 – What a great 50th birthday!  A weekend in Paris with my family and life was great!
So… at 50, in France, it was health-check time.  Smear test; bowel cancer (or poo) test and of course my first ever mammogram.  I was healthy, average weight, never smoked, no family history of any cancer – so I had absolutely no concerns heading to the hospital for my mammogram.
I don't remember the mammogram being particularly uncomfortable but then again I have very small breasts.  I began to get dressed when I was asked to go into the next room to have an ultrasound examination.  I hadn't expected that, but just assumed that this was procedural in France maybe? Every country is different I guess.
Supplemental Ultrasound on Dense Breast/s
The doctor/radiologist examined my left breast thoroughly with the ultrasound gadget and looking at the corresponding image, he did not seem overly concerned, but he was not smiling either. He disappeared to fetch my mammogram images – 'all clear' he said (or equivalent in French)  He explained, pointing to the screen that he had discovered a small shadow, 'maybe nothing sinister' but he wanted to be sure and I needed to go back the following week for a biopsy.   He left the room, whilst I got dressed – I began to shake; I gave myself a 'talking to' and tried to calm down.
Waterfalls
The next day, to keep busy, we decided to go out for the day to explore.  There had been a lot of rain that week so we thought it would be a great day to visit the nearby waterfalls.  I love taking photos and at Cascades de Gimel, I soon lost sight of my husband as I was dilly-dallying taking pics.  I consider myself quite a tough cookie; but I panicked; couldn't see him anywhere – and then the tears came!  Not many – just enough to say to myself, 'OK Cheryl, you are human, not super-woman, but you are going to be fine and you NEED to be fine for everyone else and importantly for your children'.
Gentle Goodbye Hugs
My daughter was coming from Paris and visiting that weekend!  She would definitely keep me busy!  We decided to keep it quiet about the 'shadow' on my boob; after all it was more than likely a fibrous cyst or something?
On the Monday, on route to the train station to drop our daughter, we set off for the hospital for my biopsy, casually telling our daughter, 'mum has her first mammogram today' (a little white lie).
'All OK mum?'  'Yes, Bel – fine!', I said, 'a bit uncomfortable having your boobs squashed'; little did she know that they had taken 3 biopsies.  So off to the train station; big but gentle hugs and we waved her goodbye, relieved that she would not have to endure the week that followed, waiting for results.
The YELLOW PAGES!   My local doctor had the results in the village.
One word – 'cancerous' – he said.  Although I speak perfectly good French, I think he wanted to be sure I understood – no confusion or mixed messages.
I gulped, 'C'est vrai'! – Really! I exclaimed.  No tears.  I looked at my husband.  My first thought – the kids! How on earth was I going to tell them! A few minutes passed by; we talked about no family history of any cancer; I had never smoked and no, I had not received any accident or any 'trauma' to my breast/s.
My doctor picked up the yellow pages – yes, you heard correctly. The yellow pages telephone directory.  He turned to 'C' for chirurgien (surgeon); and proceeded to call the hospital direct to organise an appointment.  This was turning out to be a very strange day! An appointment was booked for the following week and my doctor reassured me that I was 'lucky'! Seriously? I had a 'good' cancer apparently, IDC (invasive stage 1) and he knew the surgeon who carried out lumpectomy operations all the time.
Whilst I knew that the tumour was only 8mm, I needed confirmation that it had not travelled to my lymph glands or anywhere else, I also needed to keep it a secret from family and friends.  My son was at University, in the middle of his Masters dissertation; and my daughter was busy working in Paris.  I didn't want everyone to worry.  I was very positive, a lucky lady; it had been detected early.
Any Excuse…Paris …again!
We decided to wait a few weeks to tell the children. Our son would have almost finished his dissertation soon and he would be visiting in July.  I love Paris, so I decided to visit for the weekend to break the news to my daughter; the same day as the BREXIT decision.
Over dinner in Paris, I broke the news and we discussed 'IT' for just a short time.  'You're very cool about it Mum' she said.  'Yes, I am', I said, I'll be fine.  'OK then' she said, 'if you are fine, then I am fine'.    She asked a few questions and then jumped back to the very important subject of BREXIT!
Limoges Hospital, France – 21 July 2016
A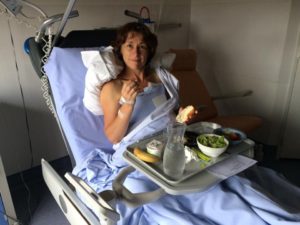 few weeks followed of hospital checks, MRIs, CT scan, meetings with the aneasthetist and finally the day of the lumpectomy arrived; I was positive, happy and reassured all would be well, and home by 8pm that evening.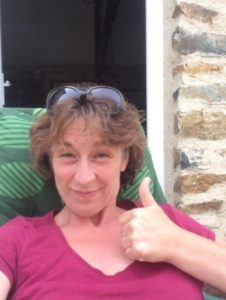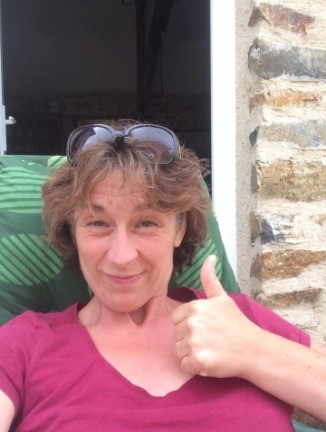 My husband and son both took to sharing the chores to look after me! This is a rare occasion and quite amusing as I am never ill but after 2 days, they were quite bored of chores; and whilst I felt great, I was told I needed to rest! The weather was lovely, so I sat in the garden with my laptop and took the time to research breast cancer.
Breast Density Matters UK
I found a lady, Terri, in Exeter, UK who had dense breasts too.  She had found a lump; she had decided to have a mastectomy and she discovered within the removed breast, there had been a tumour the size of a satsuma (hidden) in her dense breast.  I contacted her and discovered that she had begun a Breast Density campaign back in 2013.  In fact I found more women in the UK who had dense breasts; who had received 'normal' mammograms, and then later diagnosed with more advanced cancers.  I had avoided all of this.  Not only was I lucky but I was totally compelled to do something.
I got to work.  I announced it on Facebook to all my family and friends and then decided to re-launch the Breast Density campaign, as Terri had since had twins and was rather busy!
Breast Density Matters UK was formed. A patient advocacy, educating on dense breasts with the mission of early detection; reducing later stage cancer diagnoses and saving lives.
Radiotherapy commenced September – 35 sessions – but the plus side was that, in France medical taxi's are provided, plus I got to speak French every day for 6 weeks!
So out of retirement and soon I realised that running such a campaign would be a full time job but one most definitely worth doing.
How Dense Are You?
 Educating on dense breasts……….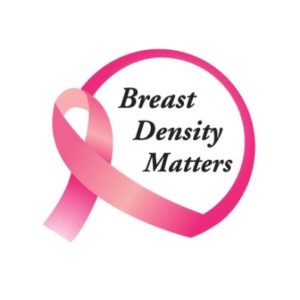 breastdensitymatters.uk@gmail.com 

 breastdensitymattersuk

 @Cheryl_Cruwys
PLEASE SIGN OUR PETITION :  Create a Breast Density Inform Law – so women know how effective mammograms are for them