Have a look at the two articles, the first is from June 2016 and the second is from March 2017 – notice anything different?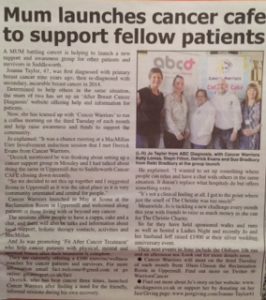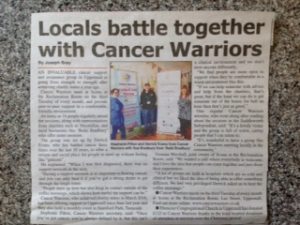 Yes, I seen to have been missed out from the latest article.  Let me rewind.  I met Derrick from the charity Cancer Warriors at a Macmillan induction event and we happened to talk about support groups and I had been looking to do something as I had recently found out that the local cancer C.A.F.E. had closed.  I thought this was terrible for people without any face to face support in Saddleworth so I had originally looked into maybe doing this with a friend.  A discussion at the Macmillan induction with Derrick and he was looking to do the same but in Mossley.  So I suggested I knew the exact place (Scona) and suggested he checked it out as it was probably the largest cafe in the locality and due to their ethics I thought it tied in well.  I also knew Reiki Bradbury from #OldhamHour and it also transpired later that she knew my best friend over in Australia.  So I helped organise this and Derrick applied for charity status for Cancer Warriors – I have never wanted to be a charity so was quite happy with this and he put my logo on the banner they had.  Derek asked me to drop some leaflets locally around Diggle (which I did) and I tweeted regularly on #oldhamhour and promoted them wherever I could, in my own presentation that I do around the UK as a patient advocate I include the group in here.  I have also talked to Macmillan about them, in fact I invited Trudy Taylor to come to the next meeting which was last Tuesday – yet again, not even a mention that I instigated this visit.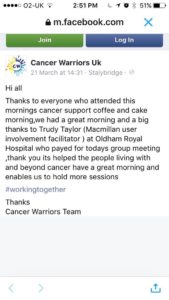 In addition, a few weeks ago a local breast cancer survivor from Diggle contacted me who was part of the cancer C.A.F.E. and after a long discussion said she had around £60 to donate from the old C.A.F.E and I said "yeh give it to Cancer Warriors".
I have supported them 100% in what I do.  I gain nothing from helping just spreading the message of support (which is what I do with abcd WITHOUT any financial support or charity money).
So the first article was based around Saddleworth and me being from Diggle, they wanted to promote what I was doing but I was very conscious that we are a TEAM and as I have shown I have supported them.
I had a heartfelt chat with Derek on Tuesday asking how he was, is he better (he had been in hospital and has ongoing cancer issues like me), when's his next appointment etc and the same with others there.  I rarely sit and have a free cake as they are for the patients in the group but I will have a cup of tea.
It's rather upsetting when you see an article then for the support group which failed to even mention abcdiagnosis and not just that, looks like someone purposely is covering the abcd logo up.  On purpose or not, this is not charitable.  None of it is charitable.
A business and a charity that I put in touch with each other fail to even recognise me.
I heard one of the patients complaining about there is no room in Scona and it is better at another setting.  It will be interesting to see what happens when their new premises are open, I wonder if Saddleworth is forgotten about again?
This is not the first time this has happened, another charity again used and abused me I even gave their leaflets to Christies and to my oncologist to promote, to another oncologist friend, my daughter posed in their tshirt promoting them and what happens? I'm forgotten about when they have a big conference but yet they involved all my contacts and never ask me.
So I'm calling them out, why not even mention this to me? I would never lie about anything especially if I had created something with someone else.  What is wrong with people?
I have no financial gain the only thing I wanted was to have a mention seeing I was pivotal in this being created here.  No one mentioned this to me.  How rude is that?  So the gloves are off now, that's it, this has tipped me over the edge.  I have no time for writing shit like this but at the end of the day I need to do it as I can't keep being walked over when I am willing to help people.
I get sick of being used and abused – this is not a competition, this is people helping people with cancer.  This is why I will never be a charity unfortunately some lose sight of what really matters.  Family, friends and acquaintances, I will call anyone out who does anything shitty to me.  Looks like there are a few more blogs to come…
But I will always remember there is no "I" in TEAM.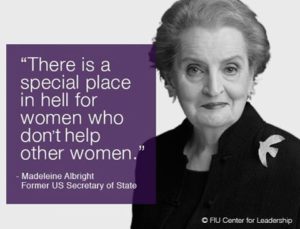 goes for men too…