Everyone knows October is Breast Cancer Awareness Month.  If you don't know you must be living on the moon or maybe you have hibernated for the whole of October.  It's in the media and in general life.  Go on buy those GHD's – ah sorry you have no hair due to treatment for breast cancer.  Epic fail.  Buy those pink lady apples, all in the name of "charidee" of course.  Oh and don't forget the little red hearts that people put on Facebook ❤
That's NOT awareness.
It may make you think of breast cancer but it's not going to make the slightest bit of difference for people to go and check themselves now is it?  Or will it make you donate to much needed breast cancer research?  I've put together some information that you can share with your family and friends which is much more informative.  Read on…
Self checking
Who checks for lumps?  Do people know how to check for lumps?  Well if not there are many tips on how to do it.  Here is how to check yourself from Breast Cancer Care but Breast Cancer Now and Macmillan and other charities have information on their websites about this.
BCNow Check your breasts and signs and symptoms
Mammograms
Who goes for an annual mammogram over the age of 50?  Remember this test is a DIAGNOSTIC tool so it can only pick up if you HAVE breast cancer.  It is no way a PREVENTION tool.  But you are checked every 3 years from 50 – 70 (and remember risk increases with age so at 70 you can still have mammograms!) Have a look at the following for information about breast cancer and what can cause it and how to REDUCE YOUR RISK.  It's important information (better than a red heart) ❤
And if you are going to have a mammogram there is a site called WoMMeN – Word of Mouth Mammography e Network which will help you to answer questions about mammograms and also has trained mammographers on the site who will answer questions.
WoMMeN – word of mouth mammography e network
After a Breast Cancer Diagnosis
If you have been diagnosed with breast cancer, I have a wealth of information on my website www.abcdiagnosis.co.uk so don't forget to check this out.  All the major charities are signposted on here and lots of useful information about health and well being, my retreats for BC patients, blogs, links, resources etc.  And remember primary breast cancer can is curable for around 2/3 of people with early stage cancer will NEVER develop secondary (metastatic or stage 4) breast cancer.
Many people wish they had known about my site when they were diagnosed so please share this valuable resource!
Secondary Breast Cancer awareness
Finally, there is a huge lack of understand when anyone hears "secondary breast cancer" mentioned.  In October there is only ONE day (the 13th October) to support people like me who have incurable secondary breast cancer.  Unlucky for some I hear you say.  Yes unlucky and for us living with the disease we have an average median life expectancy of 2-3 years.  Around 1/3 of those with primary breast cancer can at some point develop this incurable disease.  But many people can live longer and actively with the disease.  This is why on Breast Cancer Awareness Month, it's not good enough just to be aware.  You need to be fully informed.  Secondary breast cancer can happen immediately – friends I know, very intelligent friends, who have been diagnosed 'De novo' which means there is a primary somewhere but they're straight to a stage 4 / secondary diagnosis.  They don't have the time to get use to a diagnosis of primary breast cancer they are diagnosed with an incurable illness straight away.  Read here about the info on my website about secondary breast cancer
After primary cancer some subtypes of breast cancer can recur up to 20 years later.  So for those already diagnosed with primary breast cancer remember to ASK your Oncologist what your risk is?   They should be able to tell you if you are unaware.  Because of this risk I created an infographic which I share with my followers.  It provides the "red flag symptoms" of secondary breast cancer that many patients don't know about.
My infographic was part of the >>> Breast Cancer Care" Best Practise Report 2018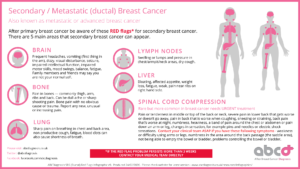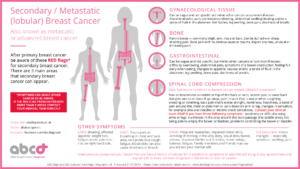 We also launched METUPUK in 2016 and this has gone from strength to strength with our advocacy work.  You will find lots of information on out website www.metupuk.org.uk we are doing some amazing work including:-
Awareness and Education (abcd infographics)
Research and Access to Drugs
Patient Treatment and Care
Check out the website there is a wealth of information on there.
Research
Lastly Research is very important for any disease.  Breast Cancer Now are the biggest UK charity who provide research for breast cancer – if you are going to support anything on Breast Cancer Awareness Month then I'd suggest give to research – it's what will find better treatments, drugs etc and hopefully (one day) a cure.
A friend Sara from Tick off Breast Cancer has looked into where monies go for "research" and came up with this list of charities if you are looking to donate you should check out this list below
Research Charities what they do and where you should donate your money if you fund raise or give regularly
So now you are aware about all these things, please share this information.
This is what awareness truly is ❤