Mary now has a terminal disease, there are drugs and trials out there in the rest of the world but she can't access them because she lives in the UK.  Sadly, the system is outdated and not fit for purpose for many NHS patients.
Can you imagine watching the desperation of friends and relatives knowing there are drugs that can extend and stabilize her disease.  But Mary's not able to go a clinical trial as the system says she has been on too many drug lines to qualify.  But going on drug lines is what patients have to do to be treated for cancer. This is the irony.  Always remember that going on a drug line has consequences down that line – literally, as it will preclude you from many trials and drugs. The system is set against Mary.  She's only 50, is living well, a mother to 3 boys, aged 18, 16 and 12 but for her latest trial, the computer says "NO – it hasn't chosen you" – this was her last option of a lifeline.  Mary has been living with incurable but treatable breast cancer for less than 4 years.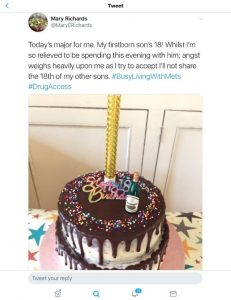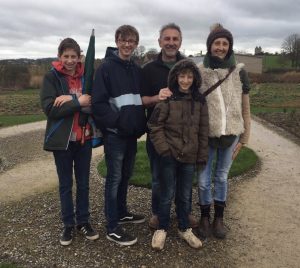 If you're a private patient there are more options, you can buy treatment options – some high profile stage 4 cancer patients are fortunate to benefit from private treatment. It can give them the word every cancer patient wants to hear. Options. The other is stable.
I'm desperate to think of ways trying to help – maybe raise some money?  That way she can get what she needs?  Mary was living well and the only reason her cancer has progressed further is that she had to wait around 4- 6 weeks on the "wash out" period (when they need to make sure all prior drugs are not in your system) to start a clinical trial.
Now her disease is taking over and she is running out of options and yet she is alive and well.   Mary's felt angry for years because she knows what is happening and what the future holds.  Yet Mary is helping to plan a fund raising event for a charity who raise money for research into secondary/metastatic breast cancer.
How would YOU feel?
Can you imagine how stressful this is?
Can you imagine any other disease where the system works AGAINST your survival?
You have family and friends and they don't understand why this is happening as you "look well" and are not actually ill…
Mary is planning an Open Garden Party to fund raise for Secondary1st – a charity that raises money for research into second breast cancer – she continues to keep living her life to the full for her boys and husband.  Her dying wish is that NICE update their outdated approval system to approve innovative new cancer drugs and that drug lines are revised to work with individual patients rather than a one size fits all approach and that stage 4 patients are no longer discriminated against – so many lead normal lives, going to work, paying taxes and contributing to society.
Given access to the right drugs, at the right time, this can extend life for many, many years.
I, as her friend, am living proof of that.  I just wish this was the same for Mary.