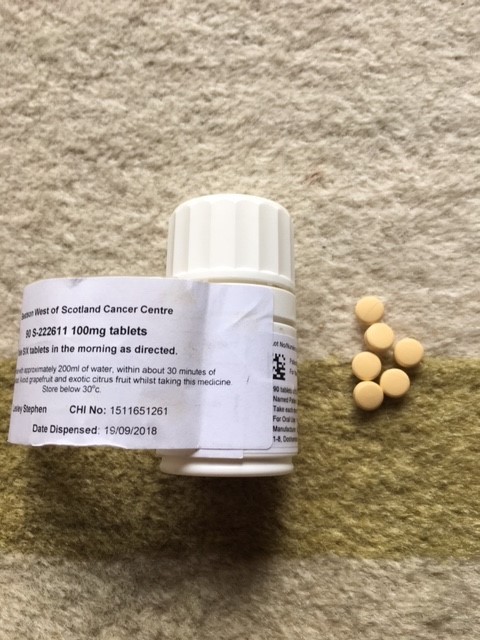 When I was told in late 2015 that I'd secured the last place on a phase 1 clinical trial, I didn't in my wildest dreams think I'd end up still on that trial almost 4 years later.
I had been diagnosed de novo (another unnecessarily complicated medical term which means 'from the start') in 2014 with Her2 breast cancer that had already spread to my liver, lungs and bones – then a year later into my brain. I have often joked that it spread faster than Usain Bolt on steroids.
After being diagnosed I rattled through the treatment lines fairly quickly, with only the brutal 12 cycles of Docetaxol chemo working for me. I knew of a couple of women who had done incredibly well on clinical trials, so I continually asked my long suffering and very patient oncologist to find a trial for me. It took some time, but after the latest 'miracle' drug for my her2 cancer failed and I was told to 'get my affairs in order', he found the last place on a trial in Glasgow. I had been willing to travel to Europe if I had to, but this was a mere hour's train ride away.
So November 2015 and a week later I travelled through to Glasgow to meet my new lead investigator on the trial.  After consenting to go on the trial, I spent a few days getting prodded and probed – a CT scan, an ECG to check my heart, and lots and lots of bloods taken – and finally started on the trial on Day 4. The pharma company paid for me to stay in a hotel, and have paid all my travel fares in the 4 years since. I've looked back at my diary from the time, and here's what I wrote.
It's a very simple protocol, 6 little yellow pills every morning, alongside Herceptin every 3rd week. I will go through to Glasgow every week for 6 weeks to get assessed. After 9 weeks will have another set of scans to see what's happening with the cancer. At the moment, 5 days in, I think I feel some improvement. I don't want to get too carried away with it, but my coughing is less and breathing better. I can't quite make all 50 steps from our basement to the loft in one go, but it feels much less like the personal Everest it used to.
So within 5 days I had noticed an improvement! And then at my first set of scans 9 weeks after starting the trial I wrote this:
The week after my teenage idol David Bowie dies of cancer, I'm having my own Blackstar moment. Sitting at the Beatson in the 'room of doom' waiting for my latest scan results, I'm nervously trying to read my registrar's deadpan face. She delivers good and bad news in much the same tone of voice, and with the same body language so I'm a little fearful of what's coming next.
But she clearly attended the 'how to give your patient their scan results without them sh***ing themselves' lecture, and leans forward maintaining eye contact and smiling. "Your results are quite good". She emphasises the 'quite', sending waves of alarm through me. What does that mean? Surely they are either good OR bad? She goes on, "the brain mets haven't come back and look at the scans of your lungs".
She points to her screen which shows hundreds of tumours, large and small, scattered over my right and left lungs. They show up as white splodges, a sort of monochrome Jackson Pollock. These are the lung scans taken before starting on the trial. She explains the white images are cancer cells. No wonder I'd been having trouble breathing and was coughing like a seasoned 40 a dayer.
Then she brings up another set of images of my lungs, which are the results after 3 cycles on the trial drug. They are mainly black, with very little white. It seems she is the mistress of understatement – my results were "quite good" she said, in fact the tumours have all but gone. In secondary cancer terms this is a miracle of Lourdes proportions! S222611, as my Japanese trial drug is known, 6 little yellow pills that I take each morning, is destroying the cancer and with none of the side effects of chemo.
And almost 4 years later, I am still on S222611, or Epertinib as it has since been named. Unfortunately my Phase 1 trial has never made it to Phase 2, despite my Beatson oncologist viewing it as a very successful drug. And its highly likely that I am the only patient out of the 36 that started this trial, still on it.
Without S222611 I would have been dead years ago. In my almost 4 years on this trial I have cycled across the Golden gate Bridge, trekked in Zion National Park Utah, sailed the coast of Croatia, climbed the Duomo in Florence and much more. I've seen my eldest son start at University and my youngest daughter enter her last year in Primary School. Because I've felt so well I have also been able to get involved in campaigning – specifically to enable easier and wider spread access to clinical trials for other metastatic patients. So while I no longer 'work' in the formal sense of the word, this amazing trial has given me the extra time to work with patient led groups like ABC Diagnosis and METUP UK to effect change.
So why are recruitment rates for trials dropping? Why isn't every patient with cancer offered a clinical trial? Why are my 6 little pills not available to every metastatic Her2 patient now? These are the questions and issues that have frustrated me for years, and why I have become a patient 'advocate' campaigning for greater access to trials for patients.
There are no easy answers to these questions, but here's my view of what the main barriers are:
• lack of a reliable, up to date UK trials database which clinicians and patients can use (I only got my space on this trial via word of mouth, oncologist to fellow oncologist)
• patient misunderstanding of the benefits of clinical trials, especially with advanced disease. Over the years people have assumed they might get a placebo drug (that never happens with advanced disease trials), or that it's a last resort (ironically if you leave it too late you probably won't be 'well enough' to get on a trial)
• too many criteria are set by pharma companies that exclude people
• oncologists who don't have the time, the knowledge or the interest to investigate what trials might be suitable for their patients
• lack of transparency around pharma led clinical trials, with results often not reported and successful drugs not progressing because of internal or external competition
Given all these barriers it is a wonder I made it onto this trial – and even more of a wonder that it is still working, more or less. In the last year a few small tumours have popped up – one in my lung and one in my liver – but the plan is to zap them and to stay on the trial as it's still keeping 95% of the cancer away.
I feel incredibly lucky to have been given this chance to extend my life and will continue to campaign for all MBC patients to be given the same opportunity.
Lesley Stephen
Campaigner, activist, change maker and METUPUK member