I wrote a blog back in 2014 "Pinktober it will turn you green" which mentioned the amount of people that decided to make a new year resolution of exercise and by the end of January the mad rush of people had died down to a dribble.
Get fit! Diet! Healthy eating! Lose weight! New Year; new you! Get a bikini body!
Here we are again, social media is full of New Year messages about diet and exercise routines. I always feel like people just head for a fail for a "new year; new you" regime. Don't get me wrong I'm a culprit too… my exercise faltered at the end of the year due to surgery I had, (click to see blog) so I have to make a conscious effort to make change. And I am. It's not easy continuing the exercise week in week out.
Firstly, remember, (spoiler alert) there is NO quick fix (sorry).
Changing your eating and lifestyle habits is something that needs to be embraced all year round not just on the chime of 12 midnight on New Year's eve after stuffing yourself with turkey dinners, chocolate, Christmas cake and cheese (and even in Yorkshire the tradition of Christmas cake WITH cheese).
I have just been on holiday and every day I would go for a walk. I felt much better doing this and have not overindulged like what usually happens at Christmas.
I've been having a think and as I've said, upping my exercise and want to change some of my routine. I walk daily and going to try to get out early morning after the children have gone to school (it's a plan…) I know if I put it off I end up going out in the dark and sometimes quite late. It would be better through the day and not in the dark evening. Nethertheless, I normally walk and work. I catch up with twitter or facebook at the same time so that I have a "killed 2 birds with one stone" approach and then I can concentrate on other things when I'm at home and get on with other tasks that need more of a computer concentration. Social media saps your focus going down that rabbit hole. And I have way too many emails and other distractions to deal with. I need to refocus on me.
I'm going to incorporate more exercise with weights and try to get a fix of yoga in there like I use to. I need to get more supple and stretching those muscles that I'm exercising. It does make a difference.
I've also been listening to friends and what they do. So just for some other ideas.
One friend on treatment for secondary breast cancer suffers from fatigue but always gets out for a walk around the block or even with Pokemon! Whatever motivates you I'd say, and this is the issue. You have to find something you like to do and do it regular.
Another (non cancer) friend found that she has "accidental exercise" and lost weight. She wanted to see if she was able go manage keeping a horse. Even with a full-time job she has been able to do this and through her daily routine of looking after a horse, mucking out, riding etc, she had lost a stone in a year. Now there won't be many breast cancer patients with a horse and I'm not saying go out get a horse but it's something she always wanted to do again and could afford and finding something that you love to do an so that it becomes "accidental exercise" is a bonus. Find something that isn't a chore.
Walking or Nordic walking groups are also great exercise. Nordic walking in particular has benefits for #breastcancer patients and research has been done on this exercise as it helps, especially if you've had lymphoedema. The action of moving your arms with the poles when you walk helps to move the lymph around your body.
We had a Nordic walking group started by instructors, but the numbers didn't make it beneficial, so it stopped as a paid group, but we have continued doing this weekly. Our little group choose a different route every week and find this is a great way of connecting with other people and exercising. I had already treated myself to some Nordic walking poles and you can buy them pretty inexpensively at £50 which is a good investment with good walking shoes.
Another friend has joined a walking group and goes out when she can with them through the week or at weekend. Again, doesn't need a huge amount that you need to spend to get out doing this.
One (non cancer) friend I have hasn't found that "thing" and over the years I had tried to motivate her with various exercise – cross fit, Nordic walking, walking, running ("you will not get me running!" I didn't…), cycling. Nothing worked and that's the thing, I don't know if she has found her thing yet. Work is always in the way but again it's how people incorporate this into daily and weekly lives. You cannot use this as an excuse.
For people at work maybe get up an hour before going to work to exercise, or walking meetings at work perhaps at lunch times? Cycling to work and there is the cycle to work scheme. If work isn't that far it's a great way of incorporating exercise before work or after work. If you are able to cycle but don't want to go both ways then perhaps get the tram or train one way so that you don't feel that you are overdoing it (obviously it depends on your fitness). But it's another thing to think about. Walking to work, or even park maybe a mile or two away from work and then walk in and back to the car giving you a good 10,000 steps if you are able to do that then you will clock up the miles. Mix it up and do some weight bearing exercises and then perhaps some yoga for mind and body it's all good ideas to do.
What I'm highlighting to you is that there are so many different ways to exercise. The NHS recommended guidelines for exercise are 150 minutes (get the regulations) we all need to be thinking about more physical activity.
And we cannot just saunter walking, it has to be purposeful i.e. be more up-tempo to get the benefit of increasing the heartrate. One way is to exercise to music, use it as a way to increase how quick you are walking or running to a beat. Some information on that here Does Music Make Exercise More Effective?
Further ideas and links to exercise can be found on my website >>> here – if you have any good links then please email me on jo@abcdiagnosis.co.uk and I will add them here.
And the benefits are huge with increased fitness, weight loss and it does reduce your risk of disease like cancer aswell as problems with high blood pressure or diabetes.  Note that I say reducing your risk – it doesn't prevent – nothing can prevent cancer currently, you can still get cancer after doing all the right things.  Physically and mentally it is great for your health and wellbeing.  If exercise was a pill it would be prescribed to everyone.
There has been some information in the press recently about reducing risk of further cancer after a primary diagnosis. The information included is new research that is proving that I am ahead of the curve with what I promote with the retreats for cancer patients.
I have needed no report to tell me that this is beneficial to me as a patient, physically and mentally, but this confirms to everyone that it increases your life expectancy after a breast cancer diagnosis  Breast Cancer Patients who exercise 150 minutes a week halve their risk of dying
And this leads to another conversation that has been on twitter about "blame" many patients think that the press and news reports about exercise and the benefits is finger pointing to people that they have somehow caused their cancer. There is always an argument with this and the twitter thread has caused angry cancer patients to mention this issue of blame.
The National Cancer Institute in USA tweeted that "1/3 of cancer cases in US could be prevented through maintaining healthy weight, physical activity and nutrition."
Whilst I do agree that some reports seem to "blame" patients and they have said "prevent" (it can't prevent it can only reduce risk) you have to look at the overall reason why this information is being provided. This is to help people to make good choices about healthy eating and physical activity. This message needs to be out there. Many comments went like: –
You're blaming patients
How do we prevent the remaining 2/3 of cancer?
As a cancer survivor my goal is to live as long as possible but to enjoy the rest of my life without guilt
Blame the patients
So it's my own fault? Wait I do all those things
66% are not preventable
Now whilst I agree with the many points, I would say that we have a long way to go to make these messages get through to people. Many messages are not blaming. Many are just advising what the best way to survive the longest. It's not saying run a marathon or go vegan. Its saying, everything in moderation and the simple fact of science of what you put in you have to expend otherwise there is an imbalance (literally) on the scales. Yes, top athletes who did everything right still get cancer (it just takes one cell to go wrong and there are billions of cells in our body) but it doesn't mean that we have to ignore all this excellent research that is now at our fingertips to say that we can make changes that will possibly help us live longer (and even cancer survivors live longer!) People who feel its directed at them maybe are insecure but please don't be negative about this. I don't need to be told that to increase my overall survival I need to be fit and healthy, keep at a reasonable weight and exercise. I am PROOF that this works and that surgeons are more likely to perform surgery on even secondary/metastatic patients if they are fit and healthy. As I've said before, I don't want any oncologist or surgeon to say to me "sorry we can't give you treatment/do the surgery as you are too unfit/overweight/unhealthy" I'll do everything possible to extend my life not just for me but for my children and husband.
The big issue here is HOW do people make change?  Many see these messages and have no idea where to start or to plan and that is the big thing that is missing from these messages. Where are the resources and where are the GPs that support these initiatives? We need EVERYONE on board to help people, otherwise these messages are just hot air. No one is going to act on them if they don't have a plan or support.
There are people like me who are motivated, and I do my upmost to help others get motivated. I have my retreats, and these are specifically for that job – motivate cancer survivors who don't know where to start or what to do to get some plan and support to make that change. This is one missing link – How can people be supported to make healthy lifestyle changes (that isn't costly).
One thing to remember though is and I tell everyone this who attends the retreats "you're lapping everyone on the couch" – anything is better than doing nothing.
Last week I went for my 3 weekly treatment and a new nurse was being trained. We got talking and she told me 4 years ago she lost 4 stone in weight. Why, because she was told her health was in danger and she had come to the conclusion herself that it was the right thing to do. She knew she would always have to be careful what she ate due to her nature of wanting to over indulge but identified that this had to stop and put action into place to help herself with the help of her GP and dietician. She started to exercise and now walks and cycles. She was an amazing example of how you can change and what it can do for your health. She felt healthy.
So, what are you waiting for? Whether you are a cancer patient or not.  Don't wait for the new year or it so be a resolution, or even for it to be a Monday, it needs to be a change of lifestyle and then continuous change (not something you do a few times) physical activity and healthy lifestyle has to be the norm. And I'm not saying that everyone has to stop eating chocolate, cakes and indulge occasionally. The issue is to have balance.  And who knows you may just enjoy physical activity!
New Year Resolutions are a thing but the one thing you need to address in all this is that your health matters. It's the one thing that we cannot take for granted and something we cannot buy. We need to work at it and take responsibility for it and yes, it's hard but I know through having secondary breast cancer that having your health means more than anything that money can buy.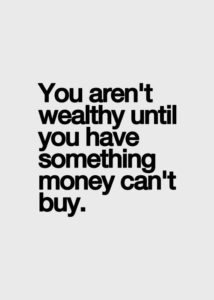 NOTE: Before any exercise especially with secondary breast cancer please talk to your Oncologist to make sure it is safe to do.